Edmund picked me up while I was on my way out of Slovakia.
He was a very wide and broad and tall man: in another word, large. Even though he drove a comfortably-sized 4WD vehicle, his weighty forearms overlapped into my side of the front seat when he gesticulated. He said that hitchhiking is a necessary part of a culture, that this dialogue therein is important.
Slovakia is a sometimes hostilely nationalistic country. Around the time of Hitler, the Fascists (like skinheads) had won an election there. Nevertheless, (I told Edmund that) the hitchhiking sometimes works very well.
In Czechoslovakian, wise Edmund told that he'd worked overseas during the communist age. He'd been in poor North Korea, where cars drove with no rubber on their tires, and one lane of traffic was the President's personal lane; and in Libya. He'd worked in rural Russia in 1986, where he'd been the first person they'd seen who brushed his teeth. His Russian girlfriend had stopped talking to him because he suggested the life outside Russia might be better. (I told him that, today, everyone wants to leave Russia.)
In addition to hitchhiking, another device used by the low-low-budget traveler is called, staying-up-all-night-in-a-city-and-partying. Who can afford a hotel? Donald Trump!? I'd last pulled this off in 2003 in Seattle and 2004 (on accident) in Finland. Could my late-twenties body handle such an acrobatic manouevre of crafty travelhood?
Budapest, Hungary (south of Slovakia) was also skilled, in getting money out of tourists. A guy lay in wait in the tourists' Metro stop and asked in English to see my ticket, when he saw me carrying bags. I explained I'd had to come here in the first place to exchange money, I refused the threatening man's fine, and I simply walked away.
Baggage storage was also expensive. Thanksfully, black-haired Agnes, an athletic Mongolian-skinned baby-mouth in a black top, invited me to leave my bags overnight in the tourist-information center. She declined to join me for "the best night ever." Her mistake.
In the night, heavenly-glowing white, sharply-square arches hallowed drivers on a bridge connecting Pest's part of the city to Buda, where a round, royal, brown building like a Parliament building lit up its edge of the Danube. On a grassy lawn, the forms of grimy-seaweed-green statues (an erect woman, Poseidon with his triton, Attila?) gave me shivers when I felt their girth minus the sky. A building long like an enormous train station dazzled with its Gothic blue-and-mustard facade carrying thin prongs, pointy windows, and gargoyle-esque windowboxes.
The city's light-sandy shopping streets and low, wide, hidden-away balconies and plazas with statues were old but progressing with the times. And Budapest was big.
A funky, six-member band called "HR" played in one venue. Their choruses really built, and long jazzed-up jams lasted a while between choruses. One English-language original was blues-y like (insert name of famous blues musician here). During their best jam, the groovy little seated bongo player sang really fast (he nearly rapped) in cool Hungarian.
That was the night's only nightlife highlight of the night. (It was a Monday, and a holiday.) Elsewhere, a patternless deejay played popular music in a busy open-air club. I ate some food here and began writing a letter to a friend. Later, the deejay began playing like he had ears, I danced a bit, rain poured down on the people who danced instead of hid, and the club closed early.
Oh, no. Four more hours to go.
I shivered a bit from the rain upon my red flannel shirt, finished the letter in a museum-like building's doorway, took some photo's when the sun came up, searched in vain for a warm place to eat gulash (the Hungarian specialty), and kept my eyes open. Agnes gave me my bags after eight, and I wrote her a thank-you note. I'd survived the night! Only my knees hurt, a bit, from walking so much on concrete. A train took me out of town so I could camp.
When I woke up and began hitchhiking, small but not short Benedetto picked me up.
In a clean beard, a Cuban hat, and a patterned shirt, he seemed like the smart kind of guy you want picking you up. He drove a white Lada (sharp-edged Russian car). We couldn't speak much, but we managed to joke. He invited me for lunch at his parents' house.
His sister explained that Benedetto couldn't speak with me because he'd often gone to play billiards during English lessons. I told Benedetto he looked like a philosopher, then, when I asked if he played soccer, he said he played chess, the "philosopher's sport."
Benedetto's mom gave us a big bowl of gulash-red potato soup to divy. Then, we dove into thin pancakes wrapped around jam or chocolate spread or blue poppy seeds. In the meantime, the parents of thirty-year-old Benedetto created ceramic bowls and cups in their workshop. Their small-town, big house contained a piano and other fine-wood furniture. The thin-boned, pale family's features and expressions were well-meaning and jolly. Benedetto even applauded me for not paying my student loans.
And on Friday, again, I endeavored to stay up all night in a city. Two times in one week! Could my weary brain handle it? This time, it was in Brasov, Romania - a colorful Transylvanian city with a big black church and caramel pedestrian streets.
"I'll never go to Romania." - self-pityingly said by Richard III, my Steak'n'Shake co-worker, who even didn't know why a person would want to go to Romania
My host Mihai, who's hair-less for some medical reason, and Lore, an affectionate and loving, smart and quick-witted girl studying psychology, were fool enough to join me.
We began in a bar. We met a friend of Mihai's, who, like many Romanian guys, was a dark, confident, macho nihilist. For some reason, I like them.
We eventually made it to Hush-Hush, a smoke-colored club playing funked-up house music all night. And that's exactly how long Lore and I danced (not together). From experience, I knew that it was death to stop dancing. Objects at rest tend to stay at rest. And I had nowhere to rest until the morning train to Mihai's town at 6:17. So, I and Lore danced, to any noise that moved. Non-dancer and (like me) non-drinker Mihai nodded off for a second in the gas station afterwards.
Mihai's family's communist-era apartment, unlike Benedetto's hosue, was tiny. Four people practically tangled themselves up living there. But, it felt good there, because Mihai's family was kind and good-natured. I only disliked the television and computer, which infected the peaceful air, and there was nowhere to escape to when they were on.
Romania and Eastern Europe are changing. A lot of people have cars now. A driver in Hungary told me the packed highway we rode on had been nearly empty two decades ago. Now, trucks carrying cheaply made goods to Western Europe navigate Romanian small-town roads walked on by pedestrians or galloped on by horses pulling wagons. Huge expressways are being built.
Eager Slovakians and Romanians learn English and lose culture to work for international corporations from the West.
Romania is now a member of the European Union. Its shepherds are now supposed to feed their sheep only milk treated with the proper chemicals. And, for the first time, beginning the year after Mihai's sister will begin university, university won't be free.
Are these changes for the best? I like that Mihai's cute, chubby, glasses-wearing mom enjoys collecting flowers almost daily beneath the mountains. I also like trying her turkey-meat-and-boiled-potatoes-and-red-sauce meal, and her cabbage soup.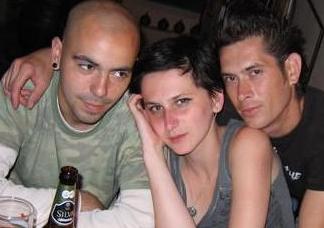 - Modern O.
Thanks to Jula; Edmund; moustachioed painter; Tez & Lubos; Andre & Eve; Kookar; Benedetto; Chaba; Polasc; Joszef; and Nelu for rides!
Much thanks to Mihai, his mom, Emil, & Tamara for the place to stay!