"Hent´o, muj bratr te pozdravuji." (Hent´a, my brother says ´hello´ to you.)
My twenty-six-year-old brother is in the Falkland Islands studying turkey vultures.
Hent´a, here in the Czech Republic, is a caring, hugging, fun friend.
But, I´m rather unsatisfied here, now. A few reasons:
1. One of the town´s alcoholics stole the cell-phone I´d been using, while I did demolition work.
2. Dastardly Marek Vaclavik has been toying with me instead of paying me for the work I did.
3. I´m not doing something productive: I´m not learning from a new culture; I can´t make long-term plans because I´ll soon leave to travel; and I have few play-mates amongst the girls of the town, a stiflingly monogamous place. (It´s monogamous because the introverted and brute-ish people see romance as sex, sex causes power struggles and a fading interest in life, which in turn creates an oppressed and aging female population that views romantic open-ness as unsafe.)
"To kiss a free person is to be free." - J. Breen philosophy
"Accept all beings into your bosom but without attachment --- with Indifference & Good Will." - Kerouac
But, at least there´s basketball.
A stable part of my week is Wednesday Night basketball with forty- and fifty- and twenty-year-olds. We greatly enjoy fast breaks and pretty passes in the gymnasium. Afterwards, we laugh and joke a lot, playing cards in Jan Cerny´s (Johnny Black´s) pub.
Sometimes, some of us drink a lot. But, I´ve been trying to stop drinking, and yesterday I began an exciting new tradition, a wondrous tradition ... that dates back to yesterday.
I bought a round of shots. Some people would drink Czech plum liquor, but I and some others had juice in our shot-glasses. I stood up. Slightly nervous, I looked at my elders who I respected and liked but rarely spoke seriously with. In the fashion of Russians or Georgians, or toasting Americans, I told a story:
"Ctyri let nazád, byl jsem v Argentine, a seznal jsem Vanesu Santandera. Byla velmá zabávní. ... A políbila dobre. Byli jsme spolu jen tri dny. A jak já jsem cestovatel, sel jsem pryc. Ale, potom, ona mi napsala romantické bázny. A pro ctyri let, jsem dobrí kamarády. Ona je velmá vlástná pro mne.
"A dneska, jsem mluvil s ní. A ona je telotná. Tak, ten byl muj sen zase být spolu s ní. Ale, jsem rád ze je st´astná. Díte bude být super. A s Juanem Gomezem, manzel, oni budou mít dobrí rodiny. A já budu pesný streda. Tak, na bébé Vanesy, napijem!"
(Four years ago, I was in Argentina, and I met Vanesa Santander. She is a very fun person. ... and a good kisser. We were together only three days. And seeing as how I´m a traveler, I left. But, for a while afterwards, she wrote me romantic poems. We´ve been good friends for four years. She´s very special to me.
Today, I spoke with her, and she´s pregnant. (At this point, funny Iri interrupted me: "Od tebe!?" (From you!?) And I admitted that would´ve made for a better story.) It may´ve been a dream of mine to someday be together with her. But, I´m happy she´s happy. The kid´s gonna be great. And with her husband, Juan Gomez, (I made an agitated "grrr!" sound here for humor´s sake.) they´ll have a good family. And I´ll be a proud uncle. So, to Vanesa´s baby, let´s drink!)
We happily stood and drank.
My nervous speech had been imperfect. I´d left out details. In the interest of truth and open-ness, I would´ve liked to have revealed to my friends that I hold anti-family philosophies, and that in spite of those we were celebrating Vanesa´s baby.
But, okay, this was just the beginning of a revolutionary, in-the-bar tradition that might:
1. enable me and others to not drink without offending the group.
2. help endear me into the group.
3. teach me comfort as a public speaker, even in foreign languages.
4. bring culture to the drinking circle.
Later in the night, I won our card game, "Rest", and some money. I was obligated to buy another round of drinks. I stood with the aim of leading us to drinking "na nás" (to us). But, I mistakenly announced that I´d probably be leaving the next week, and nobody liked nor wanted to drink to that.
We solemnly drank "na nás" ..... and ....
with time, returned to joking. Forty-year-old Jirina (her two-handed, over-the-head jump shot is deadly) asked if I had any siblings, and I said my brother is an ornithologist.
Jarda then spoke. He´s forty; red-faced with blond hair and a goatee; cool and good-looking in a 1970´s-troublemaker sort of way; he loves laughing at and making good jokes, and he playfully mocks my spasmatic-humming-through-the-nose laugh. He jokingly explained what exactly an ornithologist is:
"Zenský mají svuj gynekolog ... tak, muzi jedou do ornitolog." (Women have their gynecologists ... and men go to the ornithologist.) I spasmatically hummed through the nose when I hear that!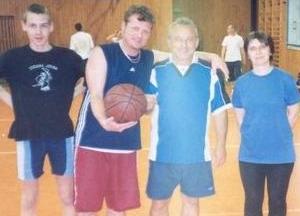 - Modern Oddyseus
and the basketball bunch
P.S. - During a trip to go hiking in a picturesque, snowy river valley nestled between Slovakia´s High Tatra Mountains, I thanked for rides: Petr; Mira & Nela; Kuba; Tonda; Rost´a; Jaroslav; Miro; Emil Vatrt; Jakub Jamnický; Jan; Hranec L´ubomir; Dominik Kaminski & Monika; David; and Jarda!