I headed via train back to my university town, Lismore ... for the last time.
The wet Irish hills in town had always made walking grueling. The sun seldom came out. The local nightclub, the Powerhouse, was only good because of the fun energy all of us who went there brought. But, I and the other exchange students and the Australian students did have fun in Lismore.
I wasn't being a student, in the studying sense, very much this semester. But, I quickly now finished my last duties. I wrote an assignment for Outdoor Education: a documentary on the predatory capacities of the leech. The assignment referred to leeches as "demon Slinkies", "Satan's Funyons", "sock-penetrating Houdini's", and in twenty more different ways.
I learned I'd lost an assigment of mine which had been submitted for Video class - the short script wherein the Crocodile Hunter got revenge on the writers of Southpark. Similarly, my thirty-nine page work for Scriptwriting was misplaced (by the teacher, I guess) and didn't get returned to me. It had been a "test" (a blue-print) for a movie in which one laidback and one stressed-out friend played a homemade sport called "street ping pong", get lost in the dangerous East St. Louis ghetto, and have to hitchhike, and the stressed-out friend learns to relax more. (If anyone ever sees a movie like this in Australia, I want to be notified immediately!) You see, I'd done work this semester; I just wasn't going to be able to prove it.
The Outdoor Ed. exam was my only one, and it was painless. The Australian grading system went something like this: the top 3% in a class get "High Distinction" marks; the next 8% get "Distinction"; the next 22% get "Pass"; and most of the rest get "Credit". I got a "Pass" in Scriptwriting and two "Credit" marks; something like a "B" and two "C's". Not bad for a "bloody yank".
My final roommate at Southern Cross University, orange-ponytailed Brandy from Minnesota, had gotten a little stressed over our Outdoor Ed. exam. She'd studied a bunch with some of her friends. These included the tall candle-wick from Iowa, Talya, who quizzed me.
We partook in the SCU tradition of sundae-eating afterwards. I was going to miss cute-voiced Brandy, and goofy Talya - who joked I'd never lived on her floor due to the "sexual tension" - when I left Lismore. Brandy commented that it was going to be especially difficult to say good-bye to the Australians.
Surprisingly, some sundae remained, so I took it to my Australian spring break companion, Raquel, who loves "a big feed." She and her round, almost-Asian face and sleek swimmer's body dove in. Over-excited by the Snickers and Peanut Butter Cups, she spilled on her face and foot. The sarcastic Indian-Australian who'd convinced me passionfruit seeds were "fish eggs", Craig, was over, and he and I laughed at Raquel.
My first taste of the "goodbye blues" had come in the SCU computer lab. Half-English-half-Australian accented Michelle, whose voice flitted like a light bird's, heard I was leaving. Her tan face and illuminating brown hair were always caring like a bird, but she seemed especially sad to hear of my departure. And she wasn't even someone I'd spent a lot of time with.
The next day, when I went to the Outdoor Ed. exam, a roommate of hers delivered to me a banana cake Michelle'd baked. Mmmm. The Iowan, Talya, spotted it, and it was impossible to keep it away from her.
It was a touching gesture for Michelle to bake me a cake. I visited her at night. She was stunningly beautiful, especially with her accent. She showed me all her pictures from England, where she'd lived for some years. She said it's tough leaving. On her wall was one of the most gorgeous pictures i'd ever seen; black-and-white, it showed her, at age fifteen, in front of an English countryside meadow. She and I jumped on the bed, then she drove us downtown.
Michelle's sometimes-boyfriend was the German exchange student, Kai. A lot of people seemed to think he and I looked alike. Sometimes, I even looked in the mirror and said, "Hi, Kai!"
One day, a little Australian girl named Donna had run up to me, crying. She said her class loved her movie, tears making her mascara run. She said I'd done it with her and that much of the credit was mine. I'd only talked to this girl once before, when she'd also been strangely extroverted. The only thing I knew about what was going on was that it was weird. She took my picture, gave me a hug, and called me Kai.
I figured out the problem only when I saw her and my look-alike the next day. Clever-humoured Kai, in his big German lummox voice, introduced me as his brother. Donna said, with revelation, "Now, I've got it!" - though she really didn't. She asked us how many languages we "German brothers" spoke, and I accidentally said I spoke one. Then, Kai said, "My parents" before correcting it to "our parents". He and I cracked up the most when he said, "Yeah, our parents are very mad at us because first he lost his wallet, then I did." (Kai, too, had lost a wallet.)
Returning to the business of Australian goodbyes, I met Peta. Darling Peta, my fourth roommate, had puppy-beagle eyes and curly black macaroni-hair. She's a tough girl, who got "High Distinction" marks, but she's a sweetheart. She deserves the best.
That night, my last in Lismore (I was leaving early, though three weeks of exam periods still remained), thirty of us went to Pizza Hut. Jewish Jeremy and I sat by Raquel, the Indian Craig, and other Aussies. Sentimentally, I said, "Craig, of all the people here, you're the one person who's going to miss me most." Raquel called a pizza topping, "fish eggs." I was hopeless at defending America, if my only support was Jeremy who wore slippers everywhere. (I shouldn't mock Jeremy, considering that I would later puke from eating too much.)
Craig's suite and Raquel's suite invited me over for one last game of "stack's on!" which we laughed throughout. Raquel departed to her room to get me a goodbye present - and Raquel's friends scolded me for not taking the hint to follow her to her bedroom. Could it be that Raquel liked me? I'd recently started to like her over Elkie, who'd been very uncaring towards me.
I told Raquel we'd had a great vacation together and that we'd do it again. She kept saying, "goodbye," and "have a nice trip," in her sweet, squeaking porpoise voice of a creature who belongs in the sea.
The next morning, I woke up, my goodbyes said, ready to leave Lismore to go traveling.
I saw Kai, who thanked me for bringing Michelle out the night before. He and I were also alike in that we were dim-witted when it came to women.
He said he'd kept talking to her, not realizing she didn't want to talk. Finally, he said, "You want sex?" And, at her place, he'd missed out on taking a shower with her. When he wisened up, it was too late, and he was pounding on the bathroom door.
I said Raquel may have liked me the whole time, and he agreed I was dumb for missing out on that.
Lismore was a great time. We exchange students who'd chosen Southern Cross University were lucky, because we got to live right with the Australians on a small campus. (At Macquarie University in Syndey, the gobs of international students got herded together.) The Aussies were humble, friendly and welcoming, laidback, and fun. We all shared a wonderful semester.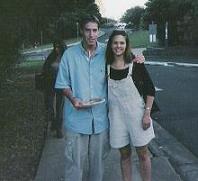 Thanks, SCU! - Justin