Yeia sas, everybody!
Okay. So, let's say, one day, you find yourself living in your tent in an olive orchard in Greece during the cold month of January. It could happen. And it would be a little something like that TV show, "Survivor." However, instead of a million-dollar grand prize awaiting you if you succeed, you would actually be trying painfully to translate your travel stories in the hopes that someone might want to buy one for a whopping one Euro apiece.
Have you prepared for such a situation? Would you know what to do? Or, would you slip on an olive in the night, get amnesia, and think forever that you're Socrates?
Luckily, there is an expert on this matter. And he's agreed to answer a few questions.
JUSTIN: HELLO, MODERN ODDYSEUS.
Modern Oddyseus: That wasn't a question. C'mon, my time's limited.
JUSTIN: RIGHT. SO, WHERE DO YOU TAKE YOUR SHOWERS?
Modern O.: I used to take them in a plastic, portable shower capsule at the port in the nearby city of Patras. But, today I made a revolutionary discovery! The weather was nice, so I wore my bathing suit and used the rinse-off facilities at the beach near my home*. I also got to snorkel in the sea. It was head-contorting cold, but I saw a baby black sea-urchin and a bunch of tortellini-shaped sea grass.
* - interviewer's note: tent
JUSTIN: DO YOU MIND IF I ASK YOU A PERSONAL QUESTION?
Modern O.: Not at all.
JUSTIN: WHEREVER DO YOU POOP?
Modern O.: Oh, I'm glad you asked. Today I made a revolutionary pooping discovery! If you poop while you're snorkeling, then you don't need toilet paper. The problem is it floats. If another bather had been in the water today and would have seen my "product" and assumed it was a sea animal, it was sizeable and long enough that he would've run for his life.
JUSTIN: HMM, THAT IS REVOLUTIONARY. SO, WHAT IS THE TOWN LIKE WHERE YOU LIVE?
Modern O.: It's called Kaminia, and about 450 people live there. It has a light-orange Greek Orthodox church, a beautiful basketball court beneath tall gray ash trees, and an old wooden-table cafe where men gather wearing suits. Tourists, orange- and lemon- and olive-farmers, weekend residents, and retired people stay there. If you ignore the loud and dangerous traffic passing through, the litter beside roads, and the natives who don't like outsiders, it's a nice place.
JUSTIN: DOES IT GET COLD AT NIGHT?
Modern O.: Yes, it's January, stupid!
JUSTIN: WHAT DO YOU DO WHEN IT GETS COLD?
Modern O.: It is usually about freezing temperature at night. The crucial thing is to put cardboard beneath your tent. That'll keep you warm, because, you see, it's corriagated. When you're talking about using cardboard in this way, you always have to point out that it's corriagated, you see, because "corriagated" is a fancy word and you'll never use it elsewhere.
JUSTIN: IT'S THE RAINY SEASON NOW. WHAT DO YOU DO WHEN IT'S NOT ONLY COLD, BUT RAINY AS WELL, AND WINDY AS WELL?
Modern O.: That's an easy one. I call to Dimitrios in Patras and go sleep in his warm, dry apartment that doesn't blow over on its side when it's windy like my tent did. I was at Dimitrios' place for five days last week, but I missed my olive orchard, and now I'm back in Kaminia.
JUSTIN: WHAT IS THE LEAST-GLAMOROUS ASPECT OF LIVING IN A TENT IN AN OLIVE ORCHARD IN JANUARY?
Modern O.: Everything.
JUSTIN: WHAT DID YOU DO LAST NIGHT IN YOUR OLIVE ORCHARD?
Modern O.: I took the advice of my college friend, Lucas "Johnny" Seipp-Williams, and meditated. It was wonderful: a new experience! I sat on the dirt in the night, facing silhouettes of hunched-and-wise olive trees before a mountainous mound beneath the stars. My mind took over. I didn't steer my thoughts; they went where they had to.
My thoughts focused on a small dilemma I have. And they put me to rest. They didn't solve my dilemma. Instead, they wisely advised me to just take things as they go. Then, my thoughts took it a step further and told me to just experience the present moment. Their instructions caused me to really enjoy the present. It was very peaceful.
Johnny says to meditate, "twice a day, for at least thirty minutes."
After the first meditation of my life, I slipped on an olive.
JUSTIN: WHERE DO YOU WASH YOUR CLOTHES, MODERN ODDYSEUS?
Modern O.: Call me Socrates!
JUSTIN: OH, MY. ... WELL, I SUPPOSE YOU WANT TO TALK ABOUT PHILOSOPHY THEN?
Modern O. with amnesia: Damn hell right I do!
JUSTIN: OKAY, SETTLE DOWN, I'VE GOT A QUESTION. WHAT WAS YOUR FIRST PHILOSOPHICAL CONCLUSION?
Modern O.: Good one. My first such conclusion was that there is no such thing as an "afterlife that lasts for all of eternity."
Several beliefs suggest there was something - some say this something was "nothing" - that for an infinity of time preceded our lives on Earth. And then, we live on Earth for ninety years. And then, something or somewhere else - or "nothing" - stretches on for the rest of eternity.
If this were true, I reason, then our time on Earth wouldn't even be a dot in the ocean. And it would be as likely as impossible that we would find ourselves on Earth at this present moment in eternity.
Thus, I'm sure each stage we undergo will have a beginning and an end - just like our time on Earth. Our life on Earth may be followed by another life on Earth, a life on Pluto, or something different. But, it will have an end. And all these lives of ours will circle around themselves throughout time, and we will be on Earth again.
SO, DO OUR LIVES HAVE MEANING?
That's an easy question. We must first ask: do other people have souls? Do they think and feel?
If they didn't have souls, or if we refuse to care about them, then our lives would be meaning-less. Everything we do and achieve would be dead and worthless if we didn't care about how it effected others. Our lives would be nothing but a great depressed misery, temporarily interrupted by personally indulgent thrills or distracted by tasks which carry no meaning, if we only cared about ourself. We could strive to be better than others, but the top is a lonely place, as is the bottom, as would be everywhere in-between.
Caring about other people is the only way to consistent and peaceful happiness. Other people have souls, or else we would not be here. The more people we care about, the more options there will be for happiness to be opened up for us.
ANYTHING ELSE?
Furthermore, I believe we all share the same soul. Why?
Well, biology can tell us that two human lives can create a third. Correct. But, that new life stems from something biological, not something supernatural. There's no reason to believe a human birth signifies something as cosmically unfathomable as the creation of a previously-nonexistent soul into being.
The fact that even one soul thinks and feels is incomprehensibly amazing. Souls don't just pop up out of nowhere. There's no need for two, or three, or six billion souls. One soul could live all our lives, and these lives would be interconnected in a beautiful way. Thus, if we punch another person, we're punching our future and/or past self.
And we shouldn't judge people, because we're all the same. I've seen bad people, murderors, and I can understand how their life events led them to do what they did, and they're not that different from me. They were lost, as we all are. They certainly lacked love, laughter, nature, friendship, or health, and they became selfish, like most or all of us.
There's simply one soul, always will be, and always has been. We're all the same. - I think.
JUSTIN: THANKS.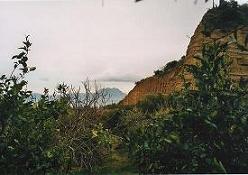 - peace.
Much thanks to Dimitrios & Leonidas for the place to stay ... warm!