"Dobrý den, kamarady." (Good day to you, friends.)
I inform you that the lovely Viktoria Havliková left town soon after our date and won't be back for a while. Darn. I'll miss seeing her laugh like a hamster.
Fortunately, my roommate is small and blond and freckled like a hamster. She's Klára Sigmundová, who was my best friend while I worked in Andorra last winter. We work during the week here, meet friends at the pub at night, and make small excursions on the weekend.
Wednesdays are my busiest days of work. I have six high school classes. One of them is a large group of fifteen-year-olds. They have a lot of happy energy and confidence, so I use that to my advantage.
Last week, we talked about animals. The students speak very poor English. Each one came to the board to draw his or her favorite animal, then we talked about what the animal eats and does and where it lives.
Marek, one of two boys in the class, with thinning golden-fleece hair, drew a pig. Dark-eyed, somber Klára drew a snake. I was happy to see her speak very fondly of snakes. She normally doesn't have the energy to compete with the louder girls in class.
Dark-haired Renáta strutted to the board. She swung her floppy hair and twisted her body sexily to hear what her class-mates told her to draw. She drew a "veverka" (squirrel). She loves being the center of attention, but it's tough to get her to speak a word of English.
Someone drew a turtle, which everyone knew lives "in the sea." Zuzana, the spunky girl who likes Tarzan, gladly took her turn. She was tall and she'd chosen a sleeveless tanktop to wear, but she has a sweet little apple face which can't be taken seriously. She drew a brontosaurus. First, she said the animal "died," but then she jokingly persisted it lives "in the sea." I asked what does a brontosaurus do, and someone said, "snorkel," and laughed. This class is always making fun of me because I said I like to snorkel.
Eventually, Marian and his youthful, blue-eyed smile took their turn. He needed to erase everything on the board in order to proudly draw his favorite beast: a great, big "velryby" (whale).
The bell rang. And my day continued along.
My Wednesdays end with a group of eighteen-year-old girls. If an outsider were to visit this class, the first thing he'd notice would be that the average student wears a look saying she hates me and everything my class stands for.
It's their eighth class, and they're eager to go perform one of their favorite hobbies: sleeping. They bring very little energy. And so, I realized, I must inject some into them. Luckily, I had a plan.
But - you know something? - this part of the Czech Republic offers some very nice things. Young people oughtn't be so lethargic. I feel quite free here ...
Two weekends ago, Klara and I made a roadtrip. Fall had come to northern Moravia. Some trees were so yellow you'd think Mother Nature mistakenly painted them twice, others were orange like caramel apples, and others had cherry-lipstick leaf veins but green leaf edges.
We rode past scenery simple but with a beauty that ejected you into the air. Green hills swam free-style toward all horizons. Forests small and large defended their hilly claims with colors as alive as members of a New York City crowd.
There's something about the light here in Moravia. It's like there's a constant haze hanging over and in front of everything you look at. The lines of big, muscular churches sway like ghosts. A glowing blue buzz hangs at the ends of fields, at the feet of forests. And the sky, when clear, is a mixture of cotton shreds and pure blue hope which spiral around each other causing each pocket of sky to look different from its neighbor. I love the strange light here.
So, when I came to my lazy eighteen-year-olds for the second time, I had a plan.
I figured I would just entertain them. I told stories about Australia. I drew reptiles on the board adn told them about when I volunteer-worked with the Crocodile Hunter. I told excitedly about nearly dying in an ocean current and about riding a broken bike for an hour with no pants.
At one point, I asked the girls why they purposely sat so far away from me. I told black-haired Barbora, with her mature milky face, to move to the front of the class. Students usually do every stupid thing I tell them to, which suprises me. But, Barbora said no. I responded by moving my chair so that I sat two inches in front of Barbora's face. And I forced her to speak English with me for three minutes.
The girls found it hillarious when I spoke to them like the Crocodile Hunter. "Aww, mate, look'et thees leedle bloitah! Isn't shey uh beaut!? The weatheh's gohgeouss!!" Other than that, they didn't show much excitement ...
Klára's and my roadtrip took us to Olomouc.
It's a city of 200,000. The center of town is made up of light-green, light-yellow, and gray apartment buildings. Stetched, ghoulish female faces or strong male bodies had been carved into the buildings. The buildings surround a plaza paved with white, uneven stones. You clomp along the plaza as if you were wearing ice skates.
One Olomouc fountain featured a bearded king riding a chariot of snakes. The snakes' mouths protected him, he wore a lion skin on his back, and an eagle tugged at his satchel.
Another fountain featured a chlorine-green, rearing, angry horse. And a third fountain had a naked man holding a dolphin. Two humongous sea-turtles were frozen in motion beside the dolphin, and many baby turtles crawled all over one of their backs. Hundreds of tiny fish and shells created collages on the fountain.
Olomouc's center was practically empty this Saturday and remarkably silent. And, I said before, Prague was a quiet big city. As for Rymarov, population 10,000, if you walk in the center at nine p.m. on an autumn weeknight, the only sound you hear is that of crumpled leaves blowing across the plaza. The silence here is great.
I began my third lesson with the eighteen-year-olds by playing "Love Me Two Times" and "People Are Strange" by The Doors. Only a few class-members said they'd enjoyed it. The others prefer hip-hop, such as Jay-Cee and Eminem.
I told about Iceland. I said I went there because I'd heard their girls are the world's most beautiful, but then I ended up working in a gay bar. I said I met a model who gave me her phone number on my first night there, but then she avoided me like a triple-cheeseburger. I drew a huge puffin on the board and told of trying to catch one for a pet.
The class was responding with a lot more interest this week ...
On this past weekend, Klára and I celebrated my birthday. Klara and Marianna prepared many appetizers: sliced pickles; sliced tomatoes; delicious, red garlic sauce on bread; popcorn; and a cake made from apples and nuts. We invited our friends from the pub over for a party.
Hent'a is perhaps my best new friend here. He wears white tanktop muscle shirts every single day, he has brown hair, and his muscular-like-a-balloon smile and round blue eyes look at you with affection and not an idea of selfish motive. Girls love him. He drinks a bit too much, unfortunately. But, he hugs you when he sees you, he takes good care of his female friends, he's a very honest fellow.
Pet'a also likes to drink. He has blond, buzzed hair and a goatee. He has broad shoulders, no neck, and a bowling-ball-sized head. He doesn't say much, quietly sips his beer, but he's always nice to everyone and grants many favors.
And Karenka came to my party too. She usually wears a hot pink, fuzzy sweater. The bangs of her blond ponytail are hair-sprayed to stand up poofily. Her blue eyes are small and shyly deep. You can tell, with one look, that she and many Rymarovers are sincere.
In class, eighteen-year-old blond Liba refused to draw a picture of her dog on the board for me.
"Fine. I will draw the dog for you." I drew a dog so bad that someone in class said, "crocodile?"
"Okay," I continued. "Now, I will draw a picture of you." I drew Liba. I made one squiggly leg to be much, much longer than the other. One arm was also much longer than its counterpart, and she was picking her nose. I made one huge eye and one tiny one. Her hair looked like sticks.
Luckily, Liba is a good sport. A girl returned to class, and I said, "This is Liba, and this is Liba's dog." The pictures were so ridiculous, none of us could look without cracking up.
I feel optimistic these girls' spirits are going to be high yet.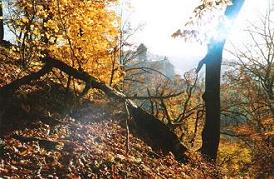 peace out! - Modern O.