It's a well-known fact among travelers that if you go to visit someone, and she has your own pair of slippers waiting for you upon arrival, then you've come to the right place.
The first dinner my friend Klara cooked for us was a cheese stew. This was my favorite meal so far. For an appetizer, Klara gave me fresh bread with two kinds of butter and globs of a special, orange cheese on top. In the Czech Republic, you can tell how special a cheese is by how stinky it is. This cheese had a pungent, addictively good taste. She also served small potato-balls and tomato-balls, as well as another salad whose dressing she made with water, vinegar, and SUGAR. The main course was cooked in a wok, and it was a thick, orange stew made mostly of sweeter cheese with turkey in it. Mmmm!
Little, blond, pigtails Klara made me go weigh myself immediately after every dinner. Then, she recorded my weight on a note of paper she had on the refridgerator. "You're too skinny!" she'd said when she picked me up from the bus station. I wasn't allowed to leave her until I gained at least five kilograms. Before the cheese stew, I weighed seventy-seven kilo's.
"Phooey!" Klara made a face and jokingly plugged her nose as she served me stinky cheese again. Creating my second dinner, she made a big ball out of floury dough. She pushed this through holes in a metal thing, to make bite-sized balls called "halouski." They were filling and bouncy in my mouth like super-balls. She served them in moist, crunchy, mermaid-hair orange cabbage with bacon bits and ham bits. We went out to celebrate afterwards, because I now weighed seventy-eight-point-five kilo's!
The local bar had glossy wooden tables, drinking-lounge-green walls, famous Czech beer, and about as much cigarette smoke as oxygen. The locals wore modern but conservative clothes, held a strong respect for beer, and - in this small Czech town of 10,000 - had sincere faces possessing no sneaky motives. Klara's friends were four guys who seemed to come every night to the same bar and speak to no one outside of those four guys. Their names were Vit'a, Hent'a, Pet'a, and Pavel.
I kept talking about sneko all night long. "Sneko" means: snails. Klara had shown me a picture of a huge snail. It was so big you could see character in its face. Snails are so big that Klara often sees them while driving, stops her car, and helps them to the side of the road. They're SO BIG that the area's first settlers used to kill snails and sleep in their shells when far from home. (That's not true!) I was so excited, I couldn't think of anything else.
Apparently, Marianna's garden was full of sneko! Marianna lived in a small, brown, wooden Hansel-and-Gretle house. She was very pretty, with a full, softest face and long, soft blonde hair. She spoke English with me by singing the ends of her sentences like a girl on a horse. She was one of Klara's best female friends.
She and Klara and I drove past huge, bright-green fields of cow. It was my third day in Rymarov, and we went to the pine forest to go mushroom-hunting. We were blanketed by long, branch-less bottomed, brown-so-soft-it-hypnotizes-you-to-sleep trees growing out of bare, brown soil. Most of the muddy-colored mushrooms I found had rotten undersides. My coolest find was a family of light-brown, bear-terd mushrooms with soft hooks all over them.
Marianna seemed to have a nose for finding good mushrooms. So, we dined on gray and slimy, mushroom stew. Boiled Czech dumplings accompanied the stew. The dumplings were slices cut from a pale, oozing loaf of something that looked like bread but was heavier. Klara and I danced in the kitchen, because I now weighed 79.8 kilo's.
We trekked around the countryside a bit on the weekend. We hiked through another forest - a spacious and tranquil and hilly, creamy-buttery-brown forest - to a waterfall.
We visited rural villages nearly as pretty as Prague. After the 1989 "revolucni," Czechs painted their cute, cubical homes pink, yellow, orange, and pearl green. Gardens in most backyards grew cabbage and leafy vegetables with appendages, shaped like Star Wars enemy fighter ships.
We finally came to a boastful 15th century castle with purplish walls and towers. Its smooth angles seemed to have been cut by a cookie-cutter. It stood visibly on a hill, half-buried in thick, bright, evergreen forest, protected by a moat.
But, the highlight of the weekend was dancing in Rymarov's dank, gothic nightclub. Klara had the dj's play Czech rock. Screeching violin, bopping accordion, and smoking fiddle created a wild sound you'd expect to hear in a dungeon or at a Polish family gathering on a farm.
"Pozdravuj pocesty, svet je malej, dokonalej!" - Divokej Bill (Wild Bill)
The guy, Pet'a, was reserved, serious-eyed, practically a mute. But, did he break out the dance moves. He did one deliberate dance I'd call "the pointing mannequin." He later added a hopping, kicking, twirling-like-a-dizzy-top, ricocheting-around-the-room dance. We danced until we were the only ones dancing.
A lazy Sunday was spent with Pelisky, one of "the Czech"'s funniest movies.
It was made just recently, but it was set in 1968. It told of a communist family and a capitalist family who lived next door to each other. The communist dad got happy because unbreakable glass had been invented in socialist Poland. "Now we're one step up on them!" But, in the end, the glass broke.
The movie showed that the pay-attention-to-authority system back then was very rigid. The people weren't free to question anything.
In other Czech-past-vs.-Czech-present debate, twenty-seven-year-old Marianna made this quote:
"A long time ago, things were different here. Fifteen years ago, there were trees, rivers ... now, there are factories."
This quote got me thinking that the newly capitalist Czech Republic is getting an influx of industrialization. But, I've since been told that the country had been more industrialized during the Soviet era. I'll look into this further.
Finally, a religions student with a ponytail, Zdanek, told me a story about the present Czech.
Every summer, there's a techno party in the woods in the west of the country. Zdanek claimed some of the people who go to the party are families who just want to hear music, and not everybody does drugs.
This year, the police blocked the highway exit there. Cars began to drive across fields toward the party. The police stopped cars and beat a lot of young people. They covered up the identification numbers on their uniforms, so no one could tell which police were doing the assaults. The Czech president later admitted he'd told the police to do this, because he'd heard about the techno party and didn't really understand what it was about.
That's a crazy story. But, I found the present Czech to be a soft, quiet, purple, and sincere place - if a little reserved and beer-infatuated. I had practically no money left, when I went to the local high school to see if I could teach there.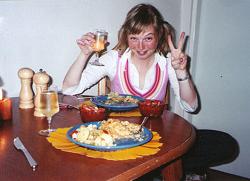 - peace until next time, Modern O.
stats after Week 1 in the Czech:
sneko sightings - 0
Justin's weight - 79.2 kg