Hey! from the Pyrenees, where the snow's still falling.
My working days in Andorra came to an end last Friday. My co-workers were sad to see me go. One earlier morning, Cyril - who's really a French giant koala bear - had been juggling an orange in the supermarket. He tossed it up and bounced it in the air off his wrist. It came down on my head and bounced into a nearby shopping cart. Cyril didn't apologize. "Bien-joue, Justin," he said as he walked away with the orange. (Well-played, Justin.) "Goal!!" I celebrated.
Friday night began my new life as a tourist. At Czech Klaraīs bar, I met a brown-haired guy named Jony. His face was round but his Irish accent rectangular, and he calmly sipped his beers. He was with a funny fellow Northern Irishman named Pete, whose hair was soft and sun-blond. I quickly liked these guys, who were interested in my travels and even my pro-celibacy and pro-communism philosophies. Pete seemed the wilder of the two, and he kept saying, "I just have no morals."
The next day, they took me snowboarding in a way Iīd never gone snowboarding before. Blond Pete wore a bright red-and-black outfit, startrooper snow-goggles slicing a gray glaze, and a tiny backpack full of Mars bars. Jonyīs brown jacket and light-orange goggles were much quieter.
Pete, especially, acted like a hotshot on the snowboard. His skill level was mediocre, but he tried doing EVERYTHING on the board. Jony and I tried too.
Peteīs first great idea was: "Letīs duck under that safety fence and go over that steep, snowy cliff." We descended the cliff - slowly - going down mostly on our butts. A chair-lift ran right above us. People on the chair-lift laughed at us, especially when Pete snowboarded straight into a bushy pine-tree branch that dumped forty pounds of snow on him.
Snow jingle-belled down on us on this beautiful, bad-weather Saturday. The Northern Irishmen and I flew off launching snow jumps. We fell. We gained speed and rode up vertical snow walls. We fell. We turned leaping 180īs. We fell. Pete took a bare-butted poop beneath a tree. He blamed it on an imaginary Andorran bear.
We went "off-piste." This means we ventured off the ski slopes and descended the mountains through forest. We dodged under tree branches, we got shot over rippling hills, and we rode the edges of frozen riverbeds. Large, cuddly pines hogged our views and begged us to stay with them and be their family. We cut through knee-deep, weightless white fluff. Upon falling, we felt the snowīs warm insulation and no pain. And no one else was around as we trekked this snowing, winter Eden.
The following day, Sunday, greeted us with very bad weather. The tops of the mountains were windy and stinging, the air was white, and we could barely see the ground we snowboarded down. But, you can be we were out and going "off-piste." Hey, Iīm a leisurely tourist now!
Pete brought his video camera. I taped the guys going over a sudden, eight-foot drop in the land. Blond Pete tried to land the drop smoothly and use it to boost his forward momentum. But, he pretty much just collapsed to the ground once he made impact. Jony tried braking his way down the drop and tipped backwards on his butt. (Maybe weīre not ready yet to make an "extreme snowboarding" video just yet.)
We reached a five-foot boulder which crouched unseen behind a forest hill. Brown-jacket Jony zoomed over the hill first and into a comfortable snow clearing. I collected speed, lost all control before the hill, flew horizontally like a sideways torpedo, scraped the boulder with my snowboard, and disappeared in an explosion of snowy dust.
"Awesome!" Pete handed me the camera. He walked up the hill, built up speed coming down, and attempted to jump the boulder. Amazingly, he didnīt die. He bounced off the boulder, rocketed to the ground below, wildly landed the jump somehow, and skidded out before a tree.
Snowboarding wonīt be the same without these two. Pete was sitting on the edge of a snow wall later on. I tried boarding up the wall and semi-circling around him. But, I didnīt have the speed. I fell on Pete and somersaulted over him. We laughed, as heīd caught the stunt on tape.
(Note of graphic detail: (not for the squeamish) I banged my "balls" during that fall - either on Peteīs snowboard or his head. (Sorry, Pete!) They would later turn blue, and I had to hitchhike to Spain to see a cheap doctor who said my "huevos" are gonna be just fine. (Whew!) ... (Are those enough parentheses?()))
And, finally, Pete instructed me to "olee" a small pine tree. I bumped my way downhill and tried to get airborne over the baby tree. "Olee" apparently means a really skill-less fall.
Peteīs camera is going to have some excellent footage. Itīs too bad we didnīt tape that Andorran bear.
The Northern Irishmen were unfortunately only here as weekend tourists. They achingly returned home.
Snowboarding has shown me some great times.
But, I still prefer free-diving in the sea. I watched a movie this week that Iīd been dying to see. FRENCH INFILTRATION STEP 9 - Watch "Le Grande Bleu."
The English name for the film is "Deep Blue." A lot of friends call this their favorite movie. It tells of the competition between two world-champion free-divers, Jack Mayol from Marseilles and Enzo (something Italian) from Italy. It tells of two menīs love for the sea and of one womanīs love for one of these distracted men. Itīs a good, romantic, somewhat tragic film full of emotions. Itīs well-done.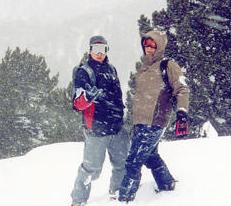 And Iīll be in France shortly, woohoo! - later, Justin
Thanks to Rionera; Freddy & Arland; Phillip; Florence; Anna; Rosie; Sini & Carl; Lauren & "Arpiz"; Vincent; Romulo; Larry; Juan-Jo; Gregoire; and Roberto & Delores for the rides!
Much thanks to Klara & Martina for the place to sleep!