"Bonne année." Happy New Year, everyone. Let´s make 2005 the best year yet; I think it´s going to be.
There´s good news from Andorra. I just got into the supermarket three days ago, and I´ve already biseptuploubled my money.
I only had nine Euro´s when I found my new supermarket job. Originally, I was supposed to have had a job working for "Mr. Manzano," at his hotel for British tourists. The Andorran government was very picky about accepting my paperwork, however, and they denied my request to work legally in their cold, snowy country. And "Mr. Manzano" kicked me out of the apartment he´d been putting me up in.
With nine Euro´s, I had two good options: 1. Rob a bank. 2. Hitchhike through the snow-buried Pyrenees to Benidorm, Spain, where it would be barely warm enough for me to camp out, where I had a friend, and where I could try to sell my travelogue booklets on the beach. Okay, really, I had no good options.
Ricky, the boyish Scottish lady-charmer, and Martin, a stern Czech who loves the mountains, didn´t want to hear about me leaving Andorra. So, they helped me rob a bank. - Actually, what they did was let me sleep in their tiny room on their hard-tile floor. Not to complain, but it´s the type of place a guy would stay at only if he had exactly nine Euro´s.
"Go illegal!" is my work-finding motto. After lots of searching in the predominantly-French ski village of Pas de la Casa, Andorra ... after hearing the words, "Pas papiéres," (No papers for working here) and seeing restaurant owners shake their heads a lot ... after exhausting all my options except for one final possibility ... I got a job in a small-sized supermarket. Woohoo! Those supermarket shelves are going to be stocked like never before!
Suddenly, I´ve become able to follow FRENCH INFILTRATION STEP 2 - Work with the French. A short and chubby guy with shaggy brown hair was put in charge of explaining to me the philosophies of supermarket shelve-stocking. His name´s Cyril, he bobs his head and looks as friendly as a Lord of the Rings hobbit, and he often sings merrily to the French tunes on the speakers. He and I might soon start sharing an apartment together.
A girl named Christielle wears her hair in a brown bun as she works the cash register. Her nose is slightly supernormal, and she´s very playful and silly and blabbery and fun.
Most of my co-workers are French, but a couple are not. A Welsh lady in her forties works the cash register also. She´s gentle and innocent, like a character on Little House on the Prairie. She looks after the store´s magazine section, and she asks my help to reach the magazines in the back top. Seeing as how this is Europe, the magazines in the back top feature a lot of naked boobs on their covers. As the Welsh lady and I stood there, holding the porno magazines and videos and debating where each should go, I´m sure that I blushed.
My favorite co-worker so far is a thirty-four-year-old Argentinian named Marcelo. He has long, black, curly hair and a grizzly voice. Like many Argentinians, he´s very cynical towards life and grumpy.
He used to fight as a member of the armed revolutionaries in Argentina. He tells me it´s a hopeless cause to fight governments, however. He says my country´s government financed every military coup d´etat in Latin America in the mid-to-late 20th century, and there are signed documents (meant to be hidden) which essentially prove that. Marcelo´s going to loan me a book, "Argentinos," (Argentinians) and let me hear his favorite Argentinian protest rock band, "La Renga." Cool.
One cool thing about my job is that my supermarket is very cheap, and a big percentage of the town comes in every day. I´ve met a ton of people during my search for work, and I get to say "Bonjour" or "Hi" or "Hola" to them when they come in.
I spend my day carting vegetables and bottled water and cereal and alcohol from storage up to the supermarket shelves. Yesterday, I was in storage, and a huge tower of paper towel rolls fell over on me. Don´t worry, though. I wasn´t seriously hurt.
The Andorran couple who owns the supermarket pay me about five Euro´s an hour. So, it´s worth the hazards.
In other news, there´s a big epidemic going around Pas de la Casa. Most people have gotten sick. Long-curly-haired Marcelo can barely talk. The temperature was at least as low as 0 degrees (-18 Celsius) a few days ago. I´m a little sick, and sleeping on a hard-tile floor doesn´t help.
But, it´s beautiful being in the mountains. A couple days after Christmas, I hiked to the top of a nearby mountain. At times, as I stepped up the mountain, I sunk into deep snow that reached to my thigh. Normally, I don´t let just anybody reach there.
From the white mountain´s side, I could survey about four-hundred other white mountains that galloped around me dizzily at all three-hundred-and-sixty angles. When clear sky floats above a land so richly white, the calm blue touches you so familiarly and humanly that it seems to be pulling you up.
At my blunt mountain´s top, a slim ridge ventured off towards another perpendicular ridge which I wanted to see over. Trailing this ridge, I stepped on disheveled rocks visible thanks to the snow-carrying wind. To the right, a snowy slope slanted steeply towards the apartment buildings of Pas de la Casa far below. To the left, my ridge dropped immediately as a cliff. If I would´ve lost my footing, I would´ve landed below on black, knife-shaped rocks that had cut themselves free of the snow so they could lurk in waiting for me.
It was exhilarating. Alas, I never did eye the other side of the perpendicular ridge, because it was divided from the ridge I was on by a deep chasm.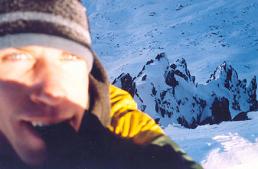 - Still hanging on, Justin Breen
Thanks to Juan; and Chataroy, Felippe, & Felippe´s wife for the rides!
Much thanks to "Mr. Manzano" for the place to stay!