Clem is a German pig-farmer from Saxony.
But, he has alternative views. He doesn't fit in with the other conservative, narrow-minded pig-farmers and other small-town folk in his small town. He's traveled a lot. He likes the Green Party. He used to be a long-haired hippy, and he and his father once went ten years without speaking to each other because of a disagreement.
He and I were together for a night out in Portugal. Now, tall Clem is thirty-five with short strawberry hair and a short-haired beard. He's one year away from being put in charge of his parents' huge pig farm back home in Germany. (It's the farm hat's huge; the pigs are normal.) In his hobby time, Clem owns and visits his property in the rural hillside of Portugal.
He proceeded to tell the story of when his brother came to visit him in Portugal. It was the first time Clem's brother took acid.
Lying beside a waterfall, this German pig-farming brother started getting crazy ideas. "I'm going to do it!" he told Clem. "When I go home, I'm gonna let the pigs go! They'll be free. I'm really going to do it!"
Clem's eyes grew fearfully wide, as he told us what he'd said to his brother: "But the people will starve!" Clem had kept going. "Think about the people! The people need our pigs. Families will go hungry. People will die!"
Clem used to believe his dad's treatment of the pigs was horrible too. But, he explained why he couldn't let his brother let the pigs go right after a visit to Portugal. "Everyone in town would say, 'Oh, he goes to visit his hippy brother, Clem, in Portugal, and then he lets the pigs go."
In the end, the pigs didn't get let go, and the people didn't starve.
Clem cracked me up. He also told of his eighty-four-year-old grandmother, who has political views like a Nazi. When Clem goes to visit her, all they do is argue. Whenever Clem gets new information to support his viewpoints, he goes to tell her. But, no matter how long Clem talks for, his grandma's response is always: "So, what?"
Clem says, "You take a long time, to carefully lay out and develop a good argumentation ... and, then, she: 'So, what?"
Clem was telling his stories to me and an English bloke named Adam.
We were in a bar in a Portuguese university town. Adam and I noticed how all the young Portuguese around us seemed obnoxiously "hip". They all sat with gallant, carefully-maintained posture. They dangled cigarettes between their fingers like poets. They wore hot pink and sky blue and lime green fashions all so "new-wave" that they became really boring.
We stepped out into the streets of three-story Coimbra, population about 100,000. Coimbra is one of the most beautiful cities I've ever seen.
Powder-white buildings centuries-old streak together climbing Skeeball alleys up the hills of the city. Above, second- and third-floor window shutters rest slightly ajar in a neighborly sort of way beneath lion faces chiseled in the outer wall. Street lights in the night illuminate the gray stone road underfoot.
Elsewhere, a town square which used to host Roman markets breaks up the city like an iced-over pond. Chubby angels and holy saints whirl around a chuch whose frosty color is outlined in ancient dirt. And, a bare sand courtyard paves the center of one of Europe's oldest universities and is bordered by luminous class halls on three sides and by a survey of the city it soars over on its fourth.
Adam and Clem were very drunk, running around Coimbra streets and doing silly things. Among those silly things, they drove us for forty-five minutes home to Adam's place. "Just a little farther, Clem!" I yelled to the driver. "If anyone can get us home, Clem's the man for the job! I have total confidence you'll get us home safely. Go Clem!" I said this because I had no confidence he would get us home safely. Rural Portuguese roads swing through small towns and are dark and perilous for even sober drivers. But, a positive word always helps.
We made it to Adam's. Adam owns a very cold, studio-style, old mortar Portuguese house. It sits on a ring of giant, lush hills. The valley below gets stuffed with fog in the mornings and looks like a lake. Adam also has a vegetable garden and two personable ducks.
Long-haired Adam is half-gypsy and likes living with nature. He'd accepted my Elaine and me as farm-volunteering members of the WWOOF program.
Thirty-eight-year-old Adam joked, in British humor, that Elaine's and my duties on his farm were going to be: "Digging holes ... filling in holes ... digging holes ... filling in holes."
Filling in holes is body-beating work! Elaine and I did that one day. Luckily, our other tasks were easier. We transported goat poop to fertilize the garden with, we ridded the garden of stones, and we raked leaves.
Elaine actually only stayed at Adam's for a few nights. I'm sure she's going to miss the goat poop. She stayed long enough to one night get really drunk on rum-and-cokes; watch me and Barry, a wealthy bespectacled Londoner, sing our hearts out to "Glory Days"; and get put to bed early by Barry's caring-like-a-mother wife, Sam.
And then, Italian-blooded Elaine went to tour Italy! Woohoo!!! ... and she and I are once again a couple. Woohoo!!!!!!
I stayed on with Adam for a full week. I enjoyed how rural Portugal is so primitive.
Short, Portuguese people with round faces and dark complexions peek out of their old, white houses. They stand on empty dirt lanes beneath stone fences and smile friendly and invited you in for a "Puro". They take you to their cellars and invite you to drink from their barrels of "pure" homemade wines and liquors. Even in the middle of the daytime, they keep pouring wine and thrusting cup-fulls in front of your face.
Most people have grapevines and gardens full of cabbage and corn. Many collect chestnuts and roast them. What they need to buy they get at the local people's market. They heat their homes by building fires. They don't have much money.
Yeah, I enjoyed rural Portugal for its old style of living. Wait, let's put that thought to some nice, sweet music. Bah-buh-dop-buh-dah ... MODERN ODDYSEUS' TOP 5!!! is in the house, and it's brought its own personal symphony!
Beeeeee-wowww, buh-dop-buh-dah barrrrrrum ... The Top 5 Best Things About Portugal!
1. SERRA DA ESTRELA -
After a week at Adam's, I hitchhiked through this mesmerizing part of Portugal. The Serra da Estrela is a bumpy plateau which lifts the highway to 6500 feet of elevation. At scattered distances, green mountain warlocks rise lost in forest lost in a bit of snow lost in clouds. Plateau grass cradles herds of contently-ambling sheep, the cheese of which makes this region famous. Old couples stand in front of neighborless homes which are actually burnt-colored one-room blocks. And the high land and air are bathed in sinister hues of gray mist.
2. PRIMITIVE
3. OLD GUYS INVITING YOU IN FOR A "PURO"
4. COIMBRA
5. GRAPHIC IMAGES ON TV -
Portuguese television shows uncensored pictures of war which people in the U.S. ought to see.
Blahm-buh-dlom, buh boppalee-bop, BLAHM!!! ... buh-dum ... makkkkawwww ... buh-dum ... go The Top 5 Worst Things About Portugal!-buh-duddalee-dum.
1. MANY CAR ACCIDENTS
2. ALCOHOLICS -
Too many "Puros".
3. BECOMING MORE EUROPEANIZED
4. PSEUDO-BOHEMIAN -
The young bar-goers seem restricted by trying to be like everyone else.
5. FOREST FIRES
Seven guys gave me rides on the day I hitchhiked off from Adam's. My Brazil-learned Portuguese was put to some fun practice. The seventh guy was a trucker going all the way to Italy. (But, where would I get out?)
Let's ask Clem's grandma what she thinks of all that.
... "So, what?"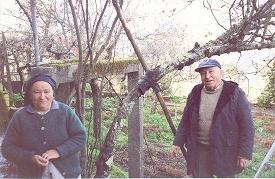 - Modern Oddyseus
Thanks to Jegar; Ricardo; Jose; Raule; Alfredo; Paolo; and Antonio for the rides!
Much thanks to Adam for the place to stay!