Out with one weekend, in with the next.
10:00 a.m. on Monday, I pulled myself to class. 12:00 p.m. on Monday, I burst through through the school doors, free for the rest of the week at last! (This short week was due to several of my classes being cancelled.) I needed a vacation.
I gazed, adventure-eyed, at my Australia map, impatiently awaiting the arrival of my new credit card. 2:00 p.m. on Tuesday, the credit card came. 4:30 p.m. on Tuesday, my luggage was being placed on the bus out of Lismore. It's ultimate destination: Cairns!
As usual, a night's stop in Brisbane was required. To my great luck, the funny German, Kai, my pizza-eating superior, George, and a blond, Finnish army general, Jere, were checking their luggage as well. They'd also be travelling through Brisbane.
"Say, can you watch my snorkel for me, please?" the German remarked in a nerdish voice, mocking me for checking my flippers and mask beneath the bus.
The guys were headed for a camping trip in the desolate, barren Central Australian outback. "This half's pot, and this half's alcohol," George said to Kai as he tossed his huge bag on the bus. At least they weren't going to be bored.
We passed the slow bus ride listening to music. As the bus took us through the Gold Coast, Kai reminisced about our trip there. He spotted the casino. He revealed that he was still upset about the Casino Rewards cards we'd gotten there which didn't get us the drinks they promised. I told Kai my Casino Rewards card had been stolen with my wallet, and he took immediate offense.
"You can steal my wallet, but DON'T touch my Casino Rewards card," he said, implying it wasn't totally worthless.
We exited the bus at Brisbane, and Kai cooled down. That is, until we got out of our taxi at a backpacker's club. George told Kai our male cab-driver had thought Kai was gay and very attractive.
"Eww!" Kai said.
Speaking of which, the big guys quenched their hunger at a downtown McDonald's. The three ate around six Big Mac's, and, all together, more food than I'd ever seen ten people order at McDonald's.
Eww.
The guys went for their free beers at a cool club, Down Under, which attracted young backpackers.
We began with a game of pool. Kai told everyone how bad I played at the Gold Coast. I didn't disprove his words. I missed the rack twice on the break. George and I lost, Kai laughed, and my teammate was so disgusted he went to bed. This blasted Coleolis effect! Damn you, Coleolis, for ever inventing it!
We checked out the girls. Kai said he didn't know how to approach girls. "Just ask, 'Where are you from?" I said.
Kai thought this to be especially funny, and he walked around, repeating mockingly, "Where are you from?" I watched as he stopped walking, started dancing with a girl, didn't use my line, and was completely unsuccessful in drawing her interest. Ha! The last laugh was mine. Kai also kept repeating, "Why is it the hottest girls go for the dorkiest guys?"
We decided to go for a team effort. Kai, Jere, and I did some dancing around some unsuspecting girls. It reminded me of Beavis & Butthead's dancing; we crouched over, kicked our legs, and jerked around to the music.
The club closed, and none of us had any luck, supporting the theory that we'd been proving all semester: practically no girls go for us guys.
Some guy with daisy dukes on, a crooked collar, and no socks picked up a pretty girl. This scene hurt our pride the most, so we made fun of the guy. "It looks like he's wearing pajamas," said Kai. "He just woke up, rolled out of bed, and decided to go to a nightclub."
Just then, a taxi pulled up to the curb by us. "The taxi-drivers are following you, Kai," said Jere.
Disgusted by who he'd attracted on the night, the German attributed his falure to the similar, white, tucked-in shirts he and Jere wore. "People probably think we're gay."
At least we handled our nonsuccesses in a healthy manner: by going to the casino and betting lots of money.
I took my place at the blackjack table. Kai and Jere looked on, after they'd each won $50 at roullette.
A short bald guy wasn't having such a lucky night. He was letting everyone know about it, too. Four security guards carried him across the playing floor. He screamed the whole length. "It can't be! Impossible! No!!! It can't be! It musn't be!"
"Ooh," said Kai and Jere excitedly, and they went to watch.
After a moment, they returned to say they were leaving for good. Security had apparently caught an error they'd made in giving the boys some winnings.
Before going, Jere joked that he was going to go outside and sit by the losing maniac and say, "How's it going? I just won $20,000."
During the rest of my lonely night, I lost $50, won it all back, made a small profit, and went to write under the bright lights of Brisbane's SouthBank pool. When the sun came up, I headed to the bus station to continue my voyage.
Once again, I was victimized for travelling with a snorkel and flippers. At the ticket counter, a hand reached from behind and grabbed my gear.
"I don't think so, pal," said a voice.
I turned around ... and, lo and behold! Kory's smiling face was staring at me.
He didn't look so good.
He'd come up the night before, and he explained his method for getting a free night in Brisbane. He'd lagged in the bus station. When a man told him the station was closing, Kory said he was awaiting an early bus. "But I have nowhere to go." The guy told him he could go off in a corner and sleep.
Kory pointed to his corner. It was carpeted; it seemed a great place to sleep.
I congratulated him on his adventurous, economizing discovery. He said, "Atta boy," to me, because I'd left on a trip as soon as I received my credit card.
We shook hands happily in mutual pride, but I couldn't linger to talk. I had twenty-five hours of bus ahead of me ... for that city that had stolen my heart ... it's name rhymes with "pans" ... Cairns!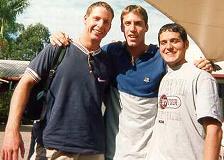 CAZZY ROUNDUP:
Brisbane (1): +$2.50
Semester to Date: -$322.50