Hola, amigos! Que tal? (What's up?)
The "up and up" down here in Spain is that I've been on the move for fifty-plus days now from Umea, Sweden. I call myself a traveler. But, I need a place to hang my shoes every once in a while.
As I decide to stop carrying more and more of my possessions, the burden of two heavy bags seems to shuffle my back like a deck of cards at a harder and harder pace. All the transitions between languages have caused my brain to speak Swespanolishuguesench. Even Icelandic was spoken this last week! And, if I have to endure another two-hour-plus wait while hitchhiking, I'm just gonna fall down. The last week was especially exhausting ... of course, it was a lot of fun too.
Things were going really quite well between Italian-blooded, American Elaine and me. When we left Barcelona, we decided to hitchhike south to Benidorm together so we wouldn't have to split up.
The European hitchhiking was a big bust. We got zero rides in two-and-a-half hours, and Elaine's back got sunburnt. So, we headed back to the apartment of my family's former Spanish exchange student, Sergei, to spend the night and have more fun than a hitchhiker has.
The next day, I had a lot of fun being a hitchhiker. Elaine used her Eurorail train Pass to go somewhere.
A bespectacled, wimpy-bodied guy in a sky blue business shirt and red tie stopped for me last. He had hair like my dad's, meaning he only had a fringe of dark hair beneath the big, bald top of his head. Bald guys in business suits rarely stop for hitchhikers. (My dad never wears business suits. He often picks up hitchhikers.) But, this guy, Juan, was a really cool Spaniard.
He introduced me as a "nuevo amigo" (new friend) to his wife over the phone. He raved about Spain's socialist practices, proud as a daisy. He says no one ever has to pay for health care in Spain. And if I or another foreigner were to get hurt while in Spain, we'd get free health care too. Illegal immigrants in Spain are guaranteed health care and education, by registering as residents with the government offices which don't share their information with immigration.
Juan's job as director of sales for an agriculture machinery company had sent him all over Spain and South America. But as a youth, Juan had hitchhiked all over Spain and France.
A Romanian truck-driver had picked me up before Juan. He'd married a Spanish girl who he´d met when he was young and traveling around Spain in search of work. He gave me a shot of a Romanian home-made liquor made out of plums. Its 52% alcohol content flamed down my throat and lingered warmly in my chest.
My second ride had come from "Porfideo." He was a middle-aged truck-driver from the Dominican Republic, with features round and cuddly like George Foreman's. I looked up to Porfideo and admired him. He'd managed to leave the - then communist - Dominican Republic and travel all over South America when he was young. He'd married a Spanish woman while age thirty.
He says the people of the Dominican Republic are economically miserable now. And they have been for all of Porfideo's life. Today's tourism drives up the prices on the island so that many locals can barely survive. The country claims its beaches are free, but hotel resorts own chunks of beaches that no one else can go on. "Hasta cuando hay gente rica, tiene que haber gente pobre." (As long as there are rich people in the world, there are going to be poor people.)
But, before Porfideo, came slightly slimy Jose. Jose said he´d been using someone's credit card - found in his car after a weekend of partying - for the past two weeks to pay toll road fees. The day I rode with him was the day he learned the card had been canceled. He only had a bit of change with him, so I sat and watched as he scraped and argued his way through two toll booths.
Those were the souls who got me to Benidorm, in a timely manner and fashion.
Benidorm was a city for the tourist and consumer and vacationer alike. High-rise hotels crowded Mediterranean beaches that fought for place between the rocky coastal shelves. The city streets were bright with bargain-bragging stores selling cheap clothes and everthing, British supermarkets and bars, and other places of amusement.
Budget package deals filled the hotels with lower-class Brits. Many of them may have come from Newcastle - the city of hooligans that had been so cruel to me. All about town, lower-class Brits squawked their accents like parakeets being throttled.
Other northern Europeans come to Benidorm too. My pal, Gaui Bergman, had come there from Iceland. It was great to see a former co-worker from Pizza67 in downtown Reykjavik. Now, Gaui operates his web-design and advertising business out of Benidorm (pathseeker.com). His clients include Millionaire, a private jet company in the U.S.
Blue-eyed, short-grayish-hued-haired Gaui showed me to a great time in his city. We got competative in games of pool and mini-golf, and we saw a hypnotist show. Gaui treated me nightly to pub crawls that starred the sweet official drink of Benidorm: vodka and RedBull.
One night out, we caught a five a.m. breakfast. I ate tender, wet Spanish meatballs, because Gaui insisted I "had to try Spanish meatballs!" Of course, all those vodka-RedBulls had caused Gaui to insist everything he said.
An interesting and very heated discussion occured between 28-year-old Gaui and his 19-year-old brother, Binny. One guy they knew had taken Binny out to the countryside in Iceland one time to look for elves. Elves are often mentioned in Icelandic folklore, and this guy always wanted to look for them. Binny commented on his elf search, cynically: "I didn't see anything. (The guy) was seeing elves everywhere. I didn't see any. I think he took a lot of ... "trips."
Gaui didn't like Binny's impliance of drug use. Gaui said, "That guy was a genius! He wasn't from this world. If he saw elves, they were there. If he saw elves, they were there." Binny quickly apologized, admiring how open-minded this other guy was.
That guy had sadly died recently, while diving in Iceland's coldest lake (while wearing a wetsuit). He had been a good friend of Gaui's bro, Daniel Bergman, who is a very spiritual nature-loving guy and one of Iceland's top bird photographers.
Gaui called me a "viking" because I snorkeled while in Benidorm. The cold water caused me to shutter afterwards. In a cove between Benidorm´s beautiful orange-rock capes, I observed a blue-yellow-and-purple parrotfish more neon than Benidorm's signs.
Meanwhile, dear traveling Elaine was somewhere in the Spanish interior. She was supposed to have come to Benidorm to hang out with us, but she couldn't get a hold of me whenever she tried to call ...
I thanked Gaui and went to hitchhike. Once again, I suffered a hot, miserable, exhausting afternoon. No cars picked me up in over two hours. (I'd been hitchhiking in a bad spot, I realized.) I said "Gothan dagen!" (Hello!) to Icelandic Gaui again and spent another night in Benidorm.
Exhausted, I rode a European bus the next day. I went to meet Elaine in Granada. But, because the hotel owner didn't give Elaine my message, we didn't see each other until late at night.
In Granada, we toured La Alhambra and evaluated our relationship. Elaine wore a "chic," tight, new black coat. Her hair had been dyed black, and long black bangs flopped in front of one of her eyes, as desirably as the January sun shines in Iceland.
It's been said, "If you die without seeing La Alhambra, then you haven't lived." La Alhambra is a big, walled-in complex of Muslim palaces from the 9th century. Blue and white and periwinkle fresco tiles and mirroring marble and strange Arabic script line the insides of the palaces. The palaces enclose courtyards where white lion statues guard fountains that spring all about with a sound so soothing it carries you to the heavens. Flowers play together in gardens, beneath fruit bushes whose oranges are a more brilliant orange than Willy Wonka could make.
La Alhambra sits a ways up the dry mountains that surround Granada. Looking out through the palaces' mosque-shaped windows, one can look down to the beautiful city of Granada and its houses which are all as white as a high religious person's robe.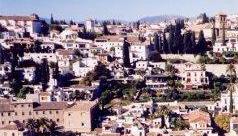 later. - Modern Oddyseus ... "If you die without reading all
two-hundred-and-forty of his travel stories, then you haven't lived."
Thanks to Jose; Porfideo; George; and Juan for the lifts!
Much thanks to Gaui Bergman for the place to stay!
And the ... LATEST LOVE-LIFE LISTING: The Elaine-and-Justin team is now "off." We do have strong feelings for each other. Elaine has made a courageous decision and is currently visiting Morrocco. Most people warn females not to go there by themselves. (I'm sure she'll be fine.) I've turned to concentrating my focus on my original plan of traveling around the world alone. We'll see ...