Hello!!!
How is everyone? I'm doing fine. I left the Hamburg, Germany airport just over a week ago. Since then, I: had a big night of drinking German steins of beer with thirty- and forty-something millionaires; played darts and bought rounds of drinks in the Netherlands; got invited in to a stone 17th-century home in a small Belgian village; found a job amongst the wineyard hills of rural Luxembourg; and paid a visit to my buddy Elaine. Whoo ...
In the past, my college roommate used to tell me I resembled a tyrannosaurus rex because my arms are much too short for my body. He used to laugh that I couldn't even reach my hands down into my pockets.
Well, just like a puny-brained dinosaur, I have been slow to adapt to a new way of hitchhiking here in Europe. You can't just stand on a highway on-ramp here, because most drivers aren't bold enough to pull over where they're not supposed to or where there may not be space. You have to go to intersections before the on-ramps, and motion to drivers stopped at red lights. Also, there are parking spots (like rest areas in the U.S.) and gas stations immediately adjacent to the highways, and these are quick spots to catch lifts. If you engage a driver going your way in Europe, he or she will often take you.
I've had to overcome some tough challenges hitchhiking this crowded European mess. In Brenem, Germany, a guy named Klaus clogged an on-ramp and infuriated some when he let me jump in his semi-truck. Klaus may have earned the blue ribbon for the boldest stop anyone has ever made for me. Donkeshayne, Klaus! Klaus was thin, about forty, and nice to talk to. I had him leave me at the junction with a small rural highway, so I could do some countryside moving.
When night came, I stood beside a wooden pen. Inside the pen were two of history's most cartoon-ish farm animals, and they came to greet. One was a pony who was pigmy and circular-bodied with blond, shaggy hair. His friend was a black, flattened-bodied pig who waddled up to the fence and oinked a happy hello.
A neighboring hotel-restaurant was the only thing around except the pony and pig. I went inside the "Hohe Lucht" for a beer.
Two moderately made-up, older blond women called me near. Their English skills weren't that skillful. The one of them, Wilma, owned the hotel, and she was celebrating the final night the restaurant would be open. Her friend, Tina, would eventually invite me to sleep at her and her husband's house, find out I traveled by hitchhiking five minutes later, and then five minutes after that ask where I planned to camp. Tina also amused her friends by pulling down her black blouse to show sexy cleavage as she posed for a picture with me.
In the simple wooden bar, I drank beer from a glass while many of Wilma and Tina's friends joked around me in powerful German. A twenty-nine-year-old red-faced blonde named Stephanie sucked down beers like a vacuum. Once, she was suddenly sitting with, not a beer glass, but a foot-tall German stein of beer. I was so excited to see a German stein of beer in Germany. That's like seeing chop-sticks in China.
The only thing Stephanie liked almost as much as drinking herself, was to see other people drink. She made use of the soon-to-be-closed bar's alcohol reserves to intoxicate her friends. Wilma hadn't been making me pay for beers anyway. But, now, in rapid succession, Stephanie placed in front of me: a beer, a shot, two beers, another shot, my very own German stein of beer! and another beer, a shot, and two more beers.
Before I puked my guts out, I managed through persistence to convince everyone at the Hohe Lucht that we should dance German folkmusic. It's a couples dance, rather clomp-y in nature. It's how horse couples would dance if they danced something other than break-dancing. Man, I spun those German women around!
Lastly, I learned that Wilma and several or many of her friends were millionaires. Feeling utterly sick from the alcohol and vomiting, I struggled to set up my tent in Wilma's yard and passed out inside.
I continued along the small German road the following day. In a small town, an overstuffed bus of schoolchildren paused beside the traffic light I hitched. For a minute, all the teenage and younger students smiled and looked at me and made friendly thumbs-up signs. I wanted to do something to entertain them, but I could think of nothing. Looking back on it, I should've grabbed some girl off the sidewalk and put on a German folkmusic hitchhiking dance-athon.
Dutch Michiael, a thin black-haired young truck-driver who practically bounced in his seat as he loved everything travel-related, drove me into his country.
The day's last ride came from stocky Dominic whose English sounded like an American's. Dominic broke the news to me that Dutch girls hate chest-hair and white sportsocks on guys. Well, they weren't going to like me very much. Dominic and I decided, though, that it's best to be yourself.
At a small-town Dutch bar that night, I met Wesley and his girlfriend Madelaine to hang out with. Wesley was a big, happy-faced, black-haired beer-lover. Madelaine was cute and young-looking with long, hilly cheekbones and glasses.
Wesley was competing in his darts club. He explained that dart clubs are very big in the Netherlands. Madelaine defeated me in three straight games. But, I explained to her that the reason I'd lost is because gravity is somehow different in the Netherlands.
Wesley also explained that in the Netherlands everyone buy rounds of drinks for his friends when he buys a drink. I received drinks and gave drinks in this friendly tradition.
Finally, some bar-goers played a very cool game. They took a tree-stump mounted high like a table-top. Each competitor took a long nail and began its journey down into the tree-stump. Then, they passed around a hammer, and each took turns whacking each other's nails down into the wood. The owner of the first sunken nail has to pay for the nails. The last person to have his nail standing wins and picks up the next round of drinks.
A little, round man named Hans - who played bar-room slot machines all night - invited me to sleep on his family's hard-wood kitchen floor. I slept like a baby! (By that, I mean I hope Hans didn't mind the smelly yellow puddle I left on his floor - just kidding, I mean I slept good!) Hans offered me spicy salami and cheese on warm bread for breakfast. And I met his nice sons in college. "Bedanke," Hans!
The following day, I got stuck smack-dab in the middle of Liege, Belgium, pop. 200,000. At this time, it had been a week since I'd bought my "Teach Yourself French" book. So, I stopped a little old lady on the sidewalk and tried to ask her advice. Not only did she tell me "Dehors de la Ville" (Out of the City) meant what I thought it did, but she even wrote the sign for me. She smiled as I took her picture with it.
Beside a stop-light, I ran from car to car with my sign and a big French smile like a stockbroker playing the market. There was a carnival across the street, but I think I was more animated. A mother and her daughter were leaving the city, and they let me in their backseat because they thought what I was doing was funny.
I had fallen in love with French-speaking people in New Brunswick and Quebec, Canada. There, the people are so excitable, so life-loving, so spontaneous, so fun, so refreshing.
It was like this, too, in Belgium. The mother in the car, Christiane, talked to me with such action. She loved people and what they did, and she was so excited about the possibilities of the future that she tripped in her singing speech. She made marmelade in her home in a small village. She invited me to come for tea, then soon after invited me to stay the night.
The road to her house in Fairon, pop. a couple hundred, wound up and down hills. Old stone boxed us in taking the form of walls, castle-like houses, and a church. The oldest part of Christiane's house was from 1622. The house was a three-story stone fortress that stretched toward the green backdrop and encircled a grassy courtyard.
The four children still living with Christiane showed me around the friendly old streets, to a tired-looking old woman's farm, and to the pasture where their horses grazed. The high quality of life here could be felt in the air.
By night, we walked the city of Liege. The lit-up streets shared the alluring scent of invitation with Olinda, Brazil. People of all ages walked and were friendly and ate in outside restaurants. The booming nightlife here is said to go on until morning. It's a workingman's town with Leftist leanings.
Christiane's twenty-six-year-old daughter, Stefanie, was romance personified. We dabbled in some French but mostly spoke English. But, even when French-speakers speack English, pockets of air slip their way in the middle of the sounds they pronounce, and it sounds so sensually enchanting. Stefanie had black eyes and black hair, and she dressed her short, great body in smart black.
Stefanie's twenty-three-year-old sister, Emily, also talked a lot to me. She playfully splashed fountain water on her younger brother, suggested we run all the way up a hundred-story flight of stairs connecting lower and upper Liege (our lungs heaved and our legs trembled afterwards), and joked that we should pull up the kilts of some Scottish bagpipe players. She loved animals but had unfortunately not succeeded in veterinary school.
The two nights I stayed with Christiane's family were awesome. J'aime les francaises! I love the French! I'm gonna miss the Lejeune family ... but I heard rumors of work available in Luxembourg!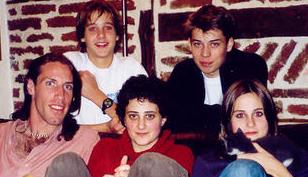 more shortly - Modern O.
Thanks to Zabrina & Dida; Gunnar; Klaus; Oliver; Uber Reemer; Robert, Harry, & Anna; Wolfgang; Zerka; Herman; Detlef; Michiael; Aaron; Dominic; Marshall; Gesselaine; Fabris; and Christiane & Stefanie for the rides!
Much thanks to Hans, Osla, Wim, & Renke; and Christiane, Christian, Stefanie, Emily, Erica, & Martan for the places to stay!