What do the following four personality types have in common?
Personality Type A believes a gang of eightteen cupcakes is perpetually stalking him, peeking out from behind couch cushions, hiding beneath his car seat and in his glove compartment, even parachuting down on his house in the night. He believes they want to use him as their baseball in tomorrow's matinee game.
Personality Type B has an insatiable fetish for all clothing and merchandise bearing likenesses of the Teletubbies. He buys out entire stocks of shirts and toys from stores, and once even wrestled a small boy and his parents for a pair of purple Teletubbie shorts made by an unlicensed Chinese manufacturer that he hadn't seen before. When asked why he likes them so much, he replies, "Hell, no, I don't like 'em! Their singing makes me want to rip my ears out!" then drinks from his Yellow Teletubbie sippy-cup. "But, hey? Them ears on 'em, huh? They're just sooooo cute."
Personality Type C is the founder and sole member of the "Make Another Movie Starring Pauly Shore" Lobbying Group.
Personality Type D has decided to come to England, in March. While searching for work, he hitchhikes around and camps out many nights in his $20 tent. Meanwhile, the weather conditions are something like a monsoon. It rains every day. It's windy. It's a couple of degrees above freezing temperature. No one will give him a job, because he's an illegal worker, and those finicky English employers will only hire someone who has, what they call, "a skill."
Figure it out? That's right, they're all insane!
Unfortunately, I'm a classic case of Personality Type D, and I might have a little of Type A in me too.
I began my trip in London. The walls of the city's "Underground" subway system were busily plastered with advertisements everywhere. Commercial stores crowded one another at street level - many appeared quaint and unique; others brandished ugly names of corporate conglomerates - below old, British architecture. I felt like a rat being offered many cheeses.
My friend, Kai from Germany, put me up. He's tall, skinny, and short-haired. When we studied together in Australia, silly Australian girls used to think we were the same person. Now, however, Kai is an international banker closing billion-dollar deals, while I've become a long-haired hitchhiker.
Two rides drove me away from London, away from those sinister cupcakes pounding their fists in tiny baseball gloves, hiding behind Kai's tv set, to the northern English countryside.
I looked for work in a town called Kirkby Stephen. Tight roads followed a stream that skipped like a girl on her way to buy eggs for her mother. Dark stones fit neatly together in short walls that ran beside the roads. Stone homes touched each other as friendly, quiet neighbors. At the small town's edges, bright green hills rolled and whipped around on their way to the highlands. More stone walls carved the hills up into pastures, feeding grazing sheep and adorable, bleating lambs. Overhead, birds chirped in the scattered black trees which grew twisted, stout, and leaf-less.
It was a great setting, and the English countryside people were very nice and courteous. At a pub one night, a Scottish bloke kept buying me beers, and a local man invited me into his family's house for the night. I was lucky for the roof over my head, because the hose-like showers and pounding wind came by morning.
I've slept out most nights since then, though. It's tough living out of a home, sweet tent. I wear most of my clothes at once to fend off the cold. I'm usually cold.
I moved on from Kirkby Stephen to a more modern town called Keswick. It's a very touristy town, but I haven't found work. Snow-powdered hills - mostly bare of trees - swarm around Keswick and the famous Lake Derwentwater it lies on. Many people say Keswick, in England's Lake District, is an amazing place, but I liked quieter Kirkby Stephen much better. That place was ever-so-pleasant.
... though wet. Everywhere here is very wet.
Nevertheless, the search for work continues!
I might head next to Newcastle. It a city of about 400,000 - seemingly too big for my liking. But! it's the world's leading producer of soccer hooligans and short, red-faced pub-goers who hold their pints of beer over their heads and say, "Oi!" And Mark, a guy I recently rode with, said it's reported to have the sixth-best nightlife of anywhere in the world: after Rio de Janeiro, Acapulco, and a couple of other places. I should be able to find work there.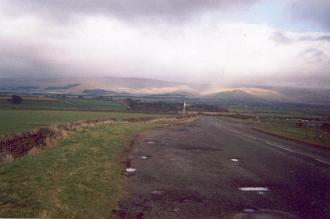 Here's to hoping. I'm insane. - Modern Oddyseus
Thanks to Jeff; Rob; Craig & Sam; Ali; Ray & Phil; Richard; and Mark for the rides!
Much thanks to Kai & Celine; and Gary & son Kyle for the places to stay!