"So, you like the Dirty, Dirty?" a hot, blond girl from the University of Ole Miss asked me in a bar. She had to explain to me that she meant, do I like "The South?"
Yes, I did like the South. I especially liked the Southern accent.
When I was staying with Autumn, the librarian, in Oxford, Mississippi, we went out for ice cream with Autumn's daughter. Three-year-old Lila had curly-blond hair. A twenty-year-old girl serving ice cream said (in what Southerners call a "country" accent, but everyone else just calls a Southern accent):
"Oh, my go-ush! Your baiby haz thu cutest curli hay-ur. I remember when I haid hay-ur like that. I uused to scream when it got long, and beg for my mama to cut it. But, thay-un, when she cut it, I knew I would just hay-ut it!"
God, do I love accents. Here's the list of my six favorite places that I visited on my trip around North America.
1. LAKE SUPERIOR'S NORTHERN SHORE
2. QUEBEC CITY
3. PORTLAND, OREGON
4. THE AMERICAN SOUTH
5. NOVA SCOTIA'S ATLANTIC COAST
6. MAINE
I left Oxford, Mississippi to hitchhike north. On this day, it rained a little, the cops forbid me to hitchhike two different times, I walked with my bags eight miles, I fell backwards on a hill of mud, and I slept in my rain-patted tent behind a car wash and dreamt that someone came over and shot me. Five months of hitchhiking had prepared me for this day.
I caught a ride with a truck to Kentucky, the following morning. Twenty-three-year-old Esad, born in Bosnia, helped me out.
Esad told me about his homeland as we drove. Before the war in Yugoslavia, his family had lived on a farm. Most Bosnians then lived like that. They had their goats and chickens and land. They had a forest, where they cut wood for the winter. They had big houses. They only had to buy detergent and cooking oil. They produced everything else they needed.
It was a stress-less existence, Esad said, and it sounded idyllic to me. Yugoslavia had been communist then, I think. The government may have taken your land if you weren't using it.
One other thing Esad said stuck out to me. He thought each can of Coca-Cola had thirty-two sugar cubes in it, or something. He thought pop-drinking was the cause of so much diabetes in the States, and it scared me into not wanting to drink pop anymore.
A trucker who pretty much loathed me then drove me into Indiana. One following ride was my 118th and final one in the States, on this trip. Ninety-two of the rides came from single males; eight came from 2+ males; two were from a male with kids; eight from couples, with or without kids; and eight more came from single females or cars with more females than males. I hitched a total of 241 rides in-between the U.S.A. and Canada. In Canada, cars that stopped were almost three times as likely to be driven by females.
So, I guess, I just had to visit females. My last visit of the trip was going to be paid to Joy.
Joy lived in Anderson, Indiana, just about the least exciting place I'd ever been. Seriously, she went to a university attended mainly by followers of the Church of God. Students at this strict school signed no-alcohol pacts. The school smelled like a church. It was such a depressing place, you didn't even want to ask someone for the time, their response would be so painfully dismal, dark.
It was amazing Joy came out so cool. She had blond hair as curly as an armadillo's wrinkles. The sharply twisted corn-yellow spirals were sexy cute, reaching out all across thin shoulders. She had eyes blue like Portugal's seas, and all she ever did was laugh and smile and drink. It was fun doing almost anything with her, which was good, because we didn't do that much.
She showed me something she'd written on life and what she wanted in life. She wanted to be free. She wanted to go to Australia, Brazil. She didn't want to enter corporate America nor be rich. She'd be happy living in a tent.
It was too bad she'd be stuck at Anderson University for another three semesters.
Joy wasn't very happy when I first arrived. She'd just had her heart crushed, by some guy she was in love with and had been best friends with for years. He'd rejected her interest in them dating, for some reason. She felt and looked sick. She couldn't eat, because she would just vomit.
I recommended she surround herself with friends, so she didn't think too much. I said to find something she could be passionate about, to re-direct her focus. It was terrible to see her so bad. The next night, she dreadfully had to work with the guy.
And then ... in the quickest broken heart recovery in history ... the next night, she was over him. Like that. She said she just saw him, thought, "This is stupid," and was back to smiling and laughing and drinking and eating again. She went from deep-pit misery to normal Joy in a day. She was a funny girl.
We were back to having fun the next days after that.
My favorite memory from Anderson was when I forced Joy outside for a nighttime walk. All this day, November snow had fallen, turning white the dry, frozen air. Anderson and its blandly-Midwestern-white houses became beautiful. As we walked, we discussed the "Perfect Date" we were going to some day have in New York City. It would take place in the winter, we would dance, and Joy would wear stylish gloves to her elbows.
She and her roommate took me to Indianapolis the following day. Joy, about to fly to California, sang to Queen on the radio. She sang like a wounded dog. "Do I get to sing on our Perfect Date?" she said.
Come to think of it, Joy didn't really dance either. She'd explained that she just "put her hands in the air and jumped around a lot" when she was drunk. Wow, this was going to be one heck of a date.
I crashed with some second cousins in Indianapolis. One gave me a ride into Michigan on the day before Thanksgiving. I still even had $5 to my name.
My pal, Bill "Pancho" Wolbrink, drove me the rest of the way to Grand Rapids. My thumb had earned the holidays off.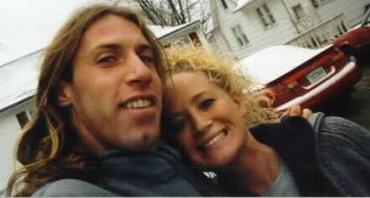 Thanks for reading. - Modern Oddyseus
And thanks to George; Charlie; Rodell; Esad; Billy & Trina; and Justin for the rides!
Much thanks to Joy Nalywaiko & Lindsey; Brett, Carl, & Brad; and Paula & Cindy Carmody for the places to crash!
NOTEABLE WILDLIFE non-SIGHTINGS (of the trip): no grizzly bear, no cougar, no bighorn sheep, no rattlesnake, no javolina