101 + (hitchhiker) = FUN.
A mathematical equation was the sign I showcased, hitchhiking west from Portland to coastal Highway 101. The "hitchhiker" on my sign was a stick-figure character with a big smily face. He cracked me up. Instead of an exposed thumb, he looked like he was sticking out a baseball bat. However, because I was in depressed rural Oregon, most people who picked me up assumed he was holding a joint.
A chemical water engineer picked me up first. He answered me that he thought the world's supply of fresh water would soon be inadequate and that it would become the world's biggest crisis. He could imagine wars being fought over it.
A guy in full military dress stopped for me later. His large build, camouflaged clothes, hairless head, obstructing sunglasses, and big, no-nonsense bottom lip were intimidating. But, I felt safe getting in his mini-van, and he drove me a good distance toward the coast.
During the ride, Robert broke most of my conceptions of people in the military. First off, he was buddhist. Secondly, he loved long hair and wore it when he could.
He had a job in which he drove around the state; at age forty, he'd re-taken up skateboarding and commonly stopped during his workday to try out skate parks. He said he wasn't afraid to whip his oldest son into shape. But, he'd also struggled to buy his son a car for his sixteenth birthday, something he'd always wanted to do. Robert was a cool guy.
The road we drove was GREAT AMERICAN HIGHWAY - OR20. It searched out its path through steep hills, very rich and crowded with vegetation, that pushed out at the road. It was a beautiful rainforest jaunt.
I reached Highway 101 and traveled as far as coastal Yachats.
Big waves marched on the broken-up rock shore of tide pools and natural land-bridges and light-green, sticky anemones and sprawling purple or orange starfish. The sun blinked away pink into the wild, rough Pacific. I slept in some trees, a tiny forest behind cottages, listening to the ocean's crashing march, feeling the sparkling, cool breeze as I slept in many clothes.
The Oregon Dunes National Recreation Area beckoned me farther down the coast.
Cliff, an unemployed guy on welfare who claimed to have hitchhiked 50,000 miles, was my ride. He offered to take me first down a dune-barred road to a remote rock jetty. I stepped out of his car to take a picture, and when I got back in Cliff was holding what seemed to be a switchblade knife. He quickly put it down. He was strange and kind of freaked me out. His was probably the scariest ride I'd had yet. It wasn't that scary.
I got out, keeping an eye to make sure Cliff didn't come back. I explored sheets of light-yellow/orange sand that stretched high and tumbled steeply for miles. I walked the bare dunes' perimeter, alongside a sand-bottomed forest which was where I'd live if I was a bear. The sunny air was contaminated by the whining created by people who thought the dunes could only be fun if they destroyed them on dune buggies.
True, I destroyed them too. But, my playing was more peaceful, more fun. I rolled a tennis ball way down a dune in front of me and sprinted down to try diving on it before it hit the forest. Whooo! it was fun. I got so sandy. I hit the sand pretty hard at times and flipped around and almost flew into the plants. Whoo-oo!
I washed off in a lake and hitched on southwards. Most of the rides I got on 101 took me only to the nearest town. I was moving slowly. Also, the people in rural Oregon were boring and mean - one guy I rode with said he thought New Jersey to be a nicer place.
GREAT AMERICAN HIGHWAY - OR26 led me inland to the interstate. OR26 followed the wide, rock-patch-interrupted, potently turquoise Umpqua River. Forest suckled us most of the way. There was at least one large field, which hosted a herd of grazing elk. My favorite thing about the road was scanning the Umpqua in hope of spotting river otters I could snorkel with.
I had no otter luck. I hitched onward down the busy interstate toward the city of Rice-a-Roni.
But, I held a sign reading, "THE ALAMO." The sign cracked up no one but me. I was paying homage to Pee Wee Herman's Big Adventure, and I envisioned getting in a car and muttering, "Someone stole my bike."
I was nowhere near The Alamo. I was in a California sage tree and pine desert. Little lizards scattered about in what felt like 94-degree heat. I was in crappy Desmunir, a town that wouldn't pick me up for four-and-a-half hours. The heat chemically sedated me or made me delirious. I nearly melted.
Leaving Desmunir's on-ramp, I wandered to the speeding interstate itself. A young artist named Mark eventually kicked up dust and pulled his truck to a halt. I was so happy I jumped up and down.
Mark and I reached San Francisco's concrete downtown at nighttime. Gay guys in leather, flesh showing, lined up at nightclubs. The Folsom Street Leather Festival was happening.
A good friend, Nathalie from Switzerland, would be caring for me here. She invited me into the nice warehouse, stocked with modern appliances and fancy furniture, that she shared with fifteen other people.
Exotic-looking Nathalie (her family was three-quarters Thai and she wore bleached-brown dread-locks) and I toured the city. We rode the trolley to wide Pacific beaches. I watched a Giants' playoff baseball game at harborside PacBell Stadium, taking advantage of a no-cost spot where thrifty fans could watch the game through a fence.
The coolest thing we toured was the Muir Woods. To get there, we had to first take a bus across San Francisco's tall, construction-red Golden Gate Bridge. The sky was fluff and the bridge barely visible when we crossed it, the afternoon was so foggy. On our way back, though, we could see down to an island-guarded sound whose water's blue was as sweetly rich as a box of chocolates.
Nathalie and I then had to hitch a few rides through tight, spiralling hills. Muir Woods, a modest-sized redwood forest, welcomed us on its trails to be amazed.
The aged-bark, wrinkled, wrecked, reddish redwoods climbed up and up way above everything to 200 feet in the sky. Poofy green branches flooped out at their tops.
Beneath the sky-reaching trees, the forest was very peaceful. It was dark. It was hilly. Leaves rested on the quiet ground and soothing streams whished by. There was one fallen redwood sinking into a hill, a fallen giant. The scene reminded me of something out of Tolkien, such as his talking woods.
We lay down on a collapsed redwood. "I would like to be one of these trees," said Nathalie, looking up.
San Francisco's dirt-collecting buildings were not as peaceful as the redwoods. San Francisco's surroundings were nice, but the city didn't impress me as Portland had.
A lowlight of my time there was when two California yuppies joked around near me. "Hey! Do you got some cocaine!? I could go for some crack!" one said. I suspected that they were mocking me, suggesting I was a crack-head. This made me self-conscious of the way I lead my life, of my looks. I mean, I had long, tough-to-manage hair, and I wore a faded sweatshirt and windpants.
My friend, Nathalie, also a traveler, told me not to worry. She comforted me that sometimes she looked good and sometimes she looked not-so-good.
I luckily didn't stay down for long. The next day, I met blond Tracy in a nightclub, and we danced and kissed. Tracy loved long hair.
This fantastic nightclub was San Francisco's Cat Club. It hosted 80's Night on Thursdays, and the whole place danced to INXS, The Cure, and Oingo Boingo all night long.
Confidence satisfactorily restored, I set off in pursuit of my #1 desired North America travel experience. I wanted to snorkel in California's kelp forests!
Six rides along coastal Highway 1 brought me to Monterey. We rode on oceanside cliffs and beside beaches full of surfers, but the best of the road was yet further south.
Emad was the most interesting ride. He was a nice guy who always picked up hitchhikers. He owned businesses, and he was the son of Palestinians. He said people had come into his business with baseball bats after 9-11 because he was muslim. They even threatened his son. Emad said 90% of Americans were understanding, though.
I walked through rich, white, touristy Monterey. I changed into my swimsuit beneath the tourist epicenter, Cannery Row. The sea spanned out flat and black/purple/dark green. Kelp heads stuck out of the water in lumps.
Though day faded, I was excited. Standing on rocks, I put on my snorkel mask and flippers. And then ...
the sash on my snorkel mask broke! I nearly cried. It was so terrible. Just when I was about to vindicate the carrying of my flippers all this way ...
Some minutes passed, and I was able to heroically tie the sash in place. I plunged off the rocks into the 61-degree sea.
Visibility was poor. I could see some kelp and the bottom. Swimming away from shore, I noticed a long, thick gray figure moving beside me.
Oh my gosh, a great white! "Thai-uh loik wai-uhls!" Brendan the Aussie had said. (They're like whales!)
Oh, my heart nearly stopped. I was so freaked.
But, then, I figured it was a seal, because it seemed to be eyeing me. Monterey Bay was full of seals.
Then, I realized what it was: a rock.
My heart was furious, regardless. I followed some kelp to shallow floor and got out. My Monterey snorkel could wait until morning.
I wandered Monterey. A young kid drove around, asking everyone enthusiastically if they wanted Republican Arnold Schwartzenegger as their new governor. He realized then that I was a hitchhiker and probably not in agreement.
Late at night, a funny Mexican security guard recommended I sleep on the balcony of one of the tourist stores he was supposed to be guarding. So, I did. It was a great sleep.
The following morning, I ate pb&j's on Cannery Row and chatted with possibly the only black guy in all of Monterey. Seals pushed through the ocean and whiskered sea otters lay on their backs eating. Sea otters are too cute.
People took SCUBA lessons in thick wetsuits and rubber hoods. Meanwhile, I did my Monterey snorkel!!! in my bare chest. The coldwater-shower policy really paid off, as did the flippers!
I made it out far, to some bunches of kelp. Surrounded by thousands of gallons of water, I could see little. I could follow the rolls of kelp eightteen feet down to the bottom, but all I could see was the kelp before me. I saw no starfish, no fish as in the day before.
My greatly-anticipated Monterey snorkel!!! could be summed up in two words: dark and spooky. But, it was still pretty cool.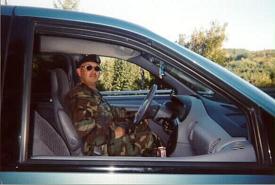 - Modern O.
Thanks to Pete & "Rudy;" Terry; Martin, Jorge, & John; Robert; Chris; George; Jake; Chuck; Cliff; John; Caleb & Lenee; Ron; Todd; John; Jack; Pete; Alfred; Mark; Chuck; Ruben & Claudia; Ira; Ed; Luciano; Steve; Cedrick; Conrad; Emad; Con; and Saul for the rides!
Much thanks to Nathalie, Kevin, Tom, Jeff, Atool, Mathias, Monica, Apec, & others for the place to stay!
NOTEABLE WILDLIFE SIGHTINGS: anemones, starfish, elk, little lizards, redwoods, harbor seals, kelp, fish, sea otters