At popular Parlee Beach, a wedge of sand rose up from a wide, gray, still sea, and many people laid or played on this July Friday. In the sand-bottomed, cloud-darkened water, there were two jellyfish with spreading, ribbon-like tentacles, and a bleach-white hermit crab to see as I snorkeled. The water was warm, the warmest north of Virginia.
Parlee Beach, also, was the beginning of New Brunswick. Adam called home to say he was in New Brunswick. His sister said, "New Brunswick!? Is that in 'Jersey!?"
New Brunswick is Canada's only bilingual province. All around us on the beach, people were having conversations. A few spoke in English, but many spoke in French.
Adam, listening, said, "I like it here," with a smile. "It feels like we're in a foreign country."
Johnny reminded him that we were, after all, in Canada.
Black-haired Julie caught some sun in her white bikini. Ah-oow!
We boys played keep-away in the water with some French-speaking kids. On my team were Fernand, thin in maroon trunks, Felipe, in new blue, and some of their younger siblings who mainly wanted to throw sand in the air and weren't much help.
Fernand and Felipe liked us, and so they just kept talking to us and talking to us and talking to us. They failed to realize we had no idea what they were saying. And they just kept on chattering.
At one point, I understood that Fernand was asking me how old I was: "Que avel a ti?" or something. We debated with our fingers until we determined I was, "Segundar-troi," and I felt happy I'd communicated to him I was "twenty-three."
We sure enjoyed Parlee Beach. One important discovery here, I and Johnny and Adam certainly noticed, was that the French girls were quite pettite and had soft facial features. This French-landia discovery stirred excitement.
But, Johnny had gotten too much sun on his back and Julie too much on her face. Leaving the beach around eight o'clock, we carried our backpacks to a nearby, cheap pizza joint on this happening area's main drag. We got our pizzas and sat outside and played cards.
In a couple of minutes, we gladly made room at our picnic table for Don and Fern and their pizza. Don and Fern were a retired, bilingual-but-predominantly-French, unwedded couple who lived together, and neither of them had a kid.
Fern had small glasses and was pretty much bald - perhaps from treatment. She took an interest in us and our trip. She said that if there was any one of us she would really be scared to pick up hitchhiking, it would be me, because of my long hair. Of course, she hadn't seen me wearing "Old Blue!"
Don took an interest in our card game, and we invited him to play. He was pleasant-looking, with browned white skin. He gave us guys a French lesson, one that he deemed very important:
"Just remember. If a girl asks you something in French, and you don't understand, always say 'no,' because you don't want to commit to something when you don't know what it is."
After the pizzas, Don and Fern invited us home with them. On the way, they treated us to ice cream. I ordered black licorice, a downright stupid choice.
Outside the ice creamery, an interplay occurred between Johnny and a friend of Don and Fern's. An old, stout, broad-shouldered lady saw Don and Fern with us and sat down. Tired, she rested her head on the shoulder of Johnny in his Baltimore Orioles hat.
Moments later, she discovered that Don and Fern didn't even know Johnny's name: "Luke."
She looked startled. She said, "I thought he was with you guys."
Don said, "We just met him, fifteen minutes ago."
Johnny turned to give her a kid-like, rainforest-pool-blue-eyed look and await her answer.
She, to Don: "You don't know him?"
Johnny: "They just bought me ice cream." He smiled and licked his ice cream.
The lady and Johnny started flirting, and she gave him a kiss on the cheek. She reflected that her ex-boyfriend would probably walk by.
Johnny's eyes grew. "You mean you've got a boyfriend!? What, are you trying to get me in trouble? ... You've probably got a husband! He's probably in there buying ice cream right now."
Johnny smiled cleverly. I laughed.
Later, when she got up to leave, the lady asked Johnny: "Vous le vous cuche avec moi ce soir?"
Johnny looked her over and thought back to Don's earlier advice.
Adam would later describe the situation: "Don was waving his hands, yelling, "say 'yes,' say 'yes!" because the lady had asked Johnny if he'd sleep with her.
"No," Johnny said proudly. Don smacked his forehead, and there was nothing left to do but go home.
At Don and Fern's, Johnny learned what he'd said no to. Don and Fern had an outdoor gazebo - not to be confused with "placebo" - where we could sit out under a tent-like net and not be hounded by the mosquitoes that were so bad.
We played cards. Don gave us glasses of dry, white wine. Fern talked a lot, while Don was more peaceful. But, I liked one thing Don said a lot.
He and Fern, because they had no kids, helped out lots through charities. But, Don said, "You can't help out others until you can first make yourself happy. If you haven't learned to be happy yourself, how can you make others be?"
We four Canada-trekkers slept cozily that night, in Don and Fern's yard in our tents or in the placebo. Whoops.
In the morning, we Canada-trekkers received our second homemade breakfast in as many days on the road. Don prepared pancakes, he made lots of bacon, there were scrambled eggs and toast, there was tea, and even small potatoes. Mmm, wow!
We even got showers. Don and Fern drove us to a desolate on-ramp, and we started hitching north up the coast of the French-Canadians, a.k.a. "Acadians."
French-Canadian Madelaine picked up Adam and I. She was about forty, in a long, thin-material skirt. She was the creator of "Petit Soleil" (Little Sun) pictures and posters which she drew and sold. The pictures featured happy faces on Acadian blue-white-and-red flags, under a "petit soleil," and the flags went sailing or did other activities.
I'm sure Madelaine was a hippy when she was younger. She was blond, and Adam was sure she used to be hot, too.
Madelaine was only going twenty miles in our direction, but she went the extra twenty miles to take us where we were going. She taught me that "Segundar-troi" actually means "fifty-three," so that's how old that kid thought I was. She handed us $20, a gatorade to fight the summer swelt with, and kisses on our cheeks.
At this point, I wasn't sure if I would be accepting money from people I did no work for. However, my thoughts weren't very relevant, because Adam snatched it up as soon as he saw it.
It was a rare day, one in which me and my long hair actually beat a fellow hitchhiking team somewhere. A car soon pulled up, and Johnny and Julie scooted out.
We were at the entrance to Kouchibouguac National Park. The name is commonly mis-pronounced "Coochie-buttcrack," but more often than anything it's just commonly mis-pronounced.
Kouchibouguac National Park is a land of small-tree, Atlantic forest and streams that lie before the ocean. We ate peanut-butter-and-jelly sandwiches in the visitors' center. We met a guy named Pierre there, and we went to a share a campsite with him.
When we first met Pierre, he had a beard and looked older than his twenty-three years. He hurried to shave it off, revealing a round, bright-as-a-bee, baby face. The muscles in his thick head swelled when he smiled, giving him a cheesy look.
His upper body was also muscular like balloons, and he was on vacation doing a two-week bicycle-peddling journey through Quebec and New Brunswick. Normally, he studies and works in a liquor store in Montreal.
He was thrilled to be in Kouchibouguac and with us. French was his first language, so he bumbled his words when he talked to us, but he told us some of his adventures. He said that one evening he'd come to an old, abandoned house, so he opened the door and went inside planning to sleep. But, the situation ended up being way too freaky for him, so he went outside to set up tent. He was travelling Argentinian-style, too, bicycle-style.
Oh, yeah. There was one more thing about Pierre. Sometimes, he would look at you and smile and then, then, he would raise his eyebrows up and down fast. We didn't know what to make of it.
We braved mosquitoes and a light rain to check out Kouchibouguac's Kellys Beach. By the time we walked there, it was thundering. But, Pierre hadn't been to the ocean in years. He and I ran across a wooden bridge spanning a small channel. We reached the barrier island beach and rushed in beneath the dark-gray clouds.
The eyes of Pierre, ecstatic, shone silver as he splashed. Or, maybe that was just a lightning bolt electrocuting the water around him. Soon, Johnny and Adam bounded onto the barrier island and dove into the water. It was cold. We lasted about three minutes.
Johnny will tell you that, on the walk back to our campsite that evening in Kouchibouguac, the mosquitoes were at their absolute worst. They harrassed each of us in large battalions. We'll never forget the back of Pierre's mesh biker shirt, which was covered with mosquitoes sucking him dry through the mesh.
It was a bloody, short-handed war until we got back to long clothes and hoods and bug spray at the campsite.
Perfectly as we finished eating hot corn and beans cooked over Julie's fire, the sky cracked, and a Kouchibouguac downpour was unleashed. We put trash bags over our backpacks, left the dishes out to be washed, and hustled to our tents. This travelling thing ain't too hard.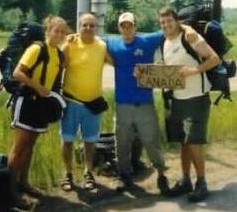 Good night. Modern Oddyseus
with Johnny, Adam, and Julie
Thanks to Madelaine; and Stan & Carol for the rides!
Much thanks to Don & Fern for the place to stay!
NOTEABLE WILDLIFE SIGHTINGS: jellyfish, bleach-white hermit crab, the thickest mosquitoes up to date