The days that followed my rejection from Elkie were depressing ones. Mostly, I spent them trying to recover my lost wallet. My keen detective skills were at their most acute as I identified the visitor most likely to have stolen from our suite, found the punk Aussie surfer´s phone number and address, and lied to his father that we´d seen him taking the wallet. The old "Assumed Guilty Until Proven Innocent" trick.
And it worked. The thief came clean like a Holden at the car-wash. He opened up like a can of Coke on a sunny day. He squealed like a monkey who´d just had his banana stolen.
So, I had my $270 back. With all the recent stress, I was in dire need of a vacation; a sure pick-me-up. Twenty minutes later, I was on a bus heading north. The plan? A week of volunteering with ... "The Man" ... my hero ... Steve Irwin ... The Crocodile Hunter!
I arrived in Brisbane late, where I had to spend a night in transit. As always, I opted to save myself $15 by spurning sleep in a hostel and staying awake all night in the 24-hour casino.
My mizery worked as well as usual. By morning, I was so tired I could hardly stand and was $60 poorer from my time at the blackjack table.
At the Brisbane train station, I learned I couldn´t catch a train to the Crocodile Hunter´s Australia Zoo in Beerwah until after my shift was scheduled to start. Even though nobody at the park actually had any idea I was coming, I couldn´t be late. I pumped my fist and said, "The Crocodile Hunter needs me!"
I started hitching to Beerwah. Lugging my heavy, strapless bag, I ran through the climbing streets of park-happy Brisbane, empty at this early hour, sticking out my thumb when called for.
A white, rusty van stopped. The smiling, dark brown faces of two women invited me in. I got in the back, and the ladies explained they were from Fiji. The younger driver, who lived in Brisbane, had stopped for me despite the rush she was in to get her mom to the airport.
"I´ll be stopping over for a week in Fiji on my way home," I told them.
"Oh!" The friendly, outgoing mother got excited. "Well, you´ll have a place to stay when you get there." She spoke with no accent but sounded like Mrs. Cleaver from "Leave it to Beaver." "I´ll write it down for you. The name´s Luisa Stolz, at 46 Jinnu Road ..."
What a great day it was going to be.
It took a couple more rides for me to get out of the city and afterwards to get on the Glass House Mountains Scenic Route, a road surrounded by short forest and dry grass.
My driver was an unemployed singer who said if you need things, they´ll come to you. "You needed a ride; I picked you up." His band, Energize, was going to be as big as U2.
He dropped me beneath that beautiful billboard of the khaki-clad, peaceful-looking but intent Steve Irwin, whose hands clasped a crocodile´s jaws. Sun shone in the always-blue sky of the Sunshine Coast. I entered the Australia Zoo and checked the clock. 7:55. My shift started at 8:00.
It was going to be a great day.
Tara, whose cute face was encased in a ball of orange hair, was in charge of the volunteers. She took me through the park´s sandy paths, past an Employee´s Only gate, and into the central cabin.
Pictures and newspaper articles featuring Steve and Terri Irwin were placed all over the walls.
"Now," said Tara. "What are your wildlife interests?"
I looked at her, confused.
"Um ... we need to know where to put you in the park."
I leaned forward, as if I was sharing with her a marvelous plan that she was going to go along with. "What I´d really like to do is wrestle a crocodile, side-by-side with Steve talking me through it.
Her hand had been poised to write, but she paused a few seconds, mouth hanging open, in shock. "Okay ..." She touched the pen to her paper. "We´ll just put you in charge of the ... SMALL reptiles."
I received my assignment, and Tara presented me with my shirt. It was a khaki button-down, with "Australia Zoo" embroidered above the left chest pocket and "Volunteer" above the right. It was missing buttons, torn at the shoulders, and patched in places; I eyed the hanging photo of an out-of-shape lady in similar dress, smiling and holding up the back end of a crocodile, and I wondered what adventures I was going to have in this shirt. I put it on and felt the pride of belonging to something great.
Stepping from the cabin, I was greeted by the park´s growling guard-dogs. I recognized among them the oily black coat of Suey, the ferrile pig-devourer who´s small in stature but tough in heart. I couldn´t believe I was looking at wise Suey, the Crocodile Hunter´s ever-eager companion. I recalled the Crocodile Hunter´s popular line during danger: "Suey, get back in the truck!" I gave the old boy a well-deserved scratch on his happy head and headed to work.
My first duty was to clean the lizard cages. Lean, dark water monitors, stony iguanas, spiky-necked racing lizards, and a timid river turtle watched coolly as I entered their brick wall enclosures. I raked their pebbles and changed their pond-water, making sure my small reptiles were well-cared for.
Brian, the resident crocodile expert, requested my assistance. He was a young guy, in his early twenties, and a maniac for danger. His latest endeavor was re-painting the backside of a railing, which seemed highly unnecessary anyway, but especially when considering he had to enter the small cage with two big crocodiles to do it.
"Justin, your job is very important." He looked to the crocodiles basking beside their cage´s dark pond. One of the bulky beasts was 6-feet long; the other was 18-feet long. They didn´t look friendly. "... VERY important. If either crocodile moves towards me or enters the water, tell me! He´s probably planning an attack."
It was easy to see why there weren´t many OLD crocodile experts.
Brian began painting. With heed. The crocodiles were active too, rumbling about and dipping into the pond for swims. I interrupted Brian´s work so often with warnings that he eventually stopped listening to me and waited to run from the crocs only after they jumped at him and chased him, mouths agape. The sneaky crocs nearly had him a few times, and he would have to duck tree branches, sprint, and hop the fence. Exhilirated, Brian would only laugh, say "Boy, that was close," and return to his painting.
My next task wasn´t so exciting. It only involved having an eight-foot snake around my shoulders. Hey, what happened to working with the SMALL reptiles!?
The boa constrictor photos were hillarious. I transported the snake from park-guests to park-guests so they could have their pictures taken. It was fun watching people cower in fear as I lifted the snake near them; every group fought over which person was going to be by the snake´s mouth.
For the rest of the morning, I watched an informative American Alligator presentation, saw the small river otters get fed, and tried befriending the surly blue-crested rhea.
Around lunchtime, I returned to the central cabin. After a moment, the back door opened, and my eyes became jewels. In their traditional clothes, Steve and Terri stood before me.
I fell in love with Terri first. She looked unexcitedly at her lunch and said, "I can´t eat a sandwich like this. No mayonnaise, no mustard. This is no fun; it´s healthy!" We were obviously soul-mates.
Steve gave me a firm hand-shake and flashed a cheery smile one could have only if every waking moment brought excitement.
The perfect couple was pondering their recent offers to visit Rosie O´Donnell´s and Roseanne Barr´s talk shows. They asked my advice as a resident American. Glad to help, I said I thought Roseanne was pretty funny. However, I couldn´t come through for Terri when she asked the name of the show. (Eventually, they would go on the Roseanne Barr show, and I like to think that I indeed had a positive impact on my heroes.)
The phone rang, and Steve spoke as delightedly as if he´d won the lotto. "G´day, mate! Haw´s ´t goin´? The weathah up heah ´s beautiful. Sun´s shinin´, sky´s blue, eet´s absolutely gohgeous!"
Terri and I had a nice conversation. Originally from Oregon, she asked what part of America I came from and what I was studying. She said her and Steve were going over to save problem crocodiles in Louisiana soon.
I played with the couple´s young, pale baby, Bindi, who shook her thick arms with the vigorousity of a sure-to-be crocodile-wrestler. "The name means ´little girl´ in aborigine," said Terri, with the pleasant smile of a person who immediately adored the company of every living thing.
The couple soon departed, as they´d had a busy morning of errands.
Later, I watched the crocodile talk. I helped Brian again, this time only to wheel around dirt. He told me of his vacation plans to go to North Queensland with friends to wrestle crocodiles. Man, his life was awesome!
At five o´clock, Tara dropped me off at the Beerwah Motel. Though thirty busy, sleepless hours had left me exhausted, I was sad to see one of the best days ever come to an end. Even the sweetest dream would only come as a letdown.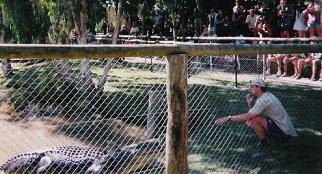 CAZZY ROUNDUP
Brisbane (1): -$60
Semester to Date: -$325