The Canadian term, "whipper-snipping," sounds to me like it's describing how you do some brain-cell-killing drug.
But, when Dr. Jim told Lucas "Johnny" Seipp-Williams, Adam, and I that was what we were going to be doing on his apple orchard on the first day of our work-week, he wasn't saying we were going to get high. Nope nope. "Whipper-snipping," translated into American, actually just means chopping down weeds, or: "Weed-wacking." ... which, when you think about it, sounds even more like a drug. Adam was a little disappointed.
No, I'm just kidding about Adam being disappointed about not getting high - although, he is the frat-boy of the group and he's got some great stories. Like, the story of the night he returned home without his pants. "That was the low-light of the semester," he says. But, I suppose if you're riding in a limo, and you have to puke, it's better to save the limo and puke on your pants and toss the pants out the window.
No. Johnny and Adam and I were excited to be working on the Inglis Orchardview Farm in Nova Scotia. We'd come as WWOOFers, which stands for: Willing Workers On Organic Farms. It's this program where farms give you a place to stay and free food in exchange for an honest day's work. In the case of Johnny and me and the "Bear-In-The-Dump," they were giving us a lot of food.
I was excited to work hard for Dr. Jim. I had on my weed-wacking windpants and my manure-shoveling shoes. Of course, those are also my regular shoes. I never told any of you guys that fact before; please remain my friends.
I was excited. It would be interesting to see how well my sometimes-bad back and microscopic muscles hold up to manual labor. I like to say a lot: "Hard work makes the world go around." And then I usually find a comfy couch, put my feet up, and stuff a whole half-gallon of ice cream into me as I listen to Alice In Chains. But, I don't think of myself as lazy, and I don't likes the "wacky weed," ho ho, if you catch my drift. Johnny and Adam had described me - while filling out our WWOOF forms - as "world traveller."
Adam's WWOOF description had been chosen by his best buddy, Johnny. Adam is "clumsy" and a "mama's boy." But, hardy Adam would ultimately prove himself to be valuable around the farm. He was the only one of us trusted to drive a tractor, and he was the only one who came in with any experience whipper-snipping - or weed-wacking, for that matter - and I don't mean that in any way incriminating.
Johnny was described by Adam as "injury-prone." This is different from "clumsy." On one hand, Adam is often falling. During our first week in Nova Scotia, he fell on his butt in a canoe while trying to get out and he tripped into a fire while disposing of a banana peel. He still hasn't slipped actually on a banana peel. He always gets up unhurt. Johnny, on the other hand, sprains his ankle or something. Poor Johnny cautiously stretches his muscles, eats healthily, and takes vitamins and pills. In Nova Scotia, he caught a bad case of allergies and he had to sleep sitting up. Adam and I sometimes call him "Pointdexter" due to the pocket of medicine bottles on his backpack. We're not very understanding friends.
Yup. We were all ready to work that week. At a quarter to eight each morning, like Dr. Jim said. - except for the four times we slept in.
Dr. Jim and his medium-sized apple orchard are in country place Tupperville, in the fertile Annapolis Valley. Rows of young apple trees stand in formation upon a hill, in this sixty-mile valley between Nova Scotia's North and South Mountains. Where the fenced-in orchard ends, sixty-foot green and tan and purple pine trees dip down hills or head up mountains as an awesome forest that looks like a great place to go hiking in and get hug-mauled by a black bear.
We strapped the weed-wacking machine to us - possibly the most problematic, stupid machine still being made - and started snipping down tall grass near the trees. This was done so the trees could get more of the ground's nutrition.
At first, I enjoyed this never-ending activity. "Good snip there," I critiqued Adam's weed-wacking. "Real good work ... You can tell you've done this before ... That was one of your best ones, right there."
Then, it was my turn to put on the safety goggles. I wacked for half an hour. "How is it?" Adam asked me.
"Wow, I haven't snipped whip that good since," I said, thinking. "... I was in Colombia."
In addition to whipper-snipping, the first activity we'd performed on this Monday was to move apple crates. We moved hundreds of wood crates from one barn whose roof had caved in during the winter, to a still-intact barn. It felt real good to work with my bare hands. Well, gloves in this case, actually.
Other apple orchard activies included tearing down the old barn; stacking wood in Dr. Jim's old, two-story farmhouse's basement; cutting wood with a rusty, tractor-powered band-saw; shoveling manure around the trees; and lots of whipper-snipping. Most of this work was enjoyable to me, and my friends. My back never hurt. The farm-work, some days, was tough and addictive.
Other days, it could get a bit frustrating. Our main complaints were: 1. The whipper-snipping machine required twenty minutes of repairs for every twenty minutes it would snip, sometimes. 2. In the clear, big sky, the Annapolis Valley sun was very hot. Sweat poured down Adam's forehead and through his shirt, and water ran down our throats like gold. 3. Bugs assauged us, like never before. There were mosquitoes, blackflies, gnats or no-see-ums, wood ticks, horseflies, deerflies, and moose flies. Johnny combatted them by wearing a bandana around his mouth like a train-robbing bandit. My least-favorite bugs were the deerflies who flew around and around and around and around your head for no apparent reason, and there was nothing you could do to get rid of them.
Other than that, the farmwork was great.
We worked alongside Derek. Derek's in his fifties, and he's been Dr. Jim's employed righthand-man for several years. He's the type of guy who eats oatmeal for his breakfast. He's practical. He knows his way around a farm and a tractor-powered bandsaw, he doesn't fool around, and that's all that matters.
In his spare time, he coaches and trains the local Special Olympians. He told of Special Olympians from other parts of Nova Scotia, one from Truro and one from Picto, who always did well and who'd earned themselves trips to compete in Europe. Derek loves his coaching work.
I asked him about his pre-Olympics pep talks. "Do you ever say, 'Come on, players, let's go out there and win! I'm sick of losing to that Truro boy and that Picto swimmer." That question, though, as we stacked firewood, might've been too much fooling around for Derek's liking. Some Nova Scotians, I find, don't have joke responses. When some of these guys - such as a few guys I've ridden with - hear a funny joke, they just continue on in their serious, subdued conversation as if nothing had happened. It's strange. (Or, maybe they just don't think I'm funny.)
(But, how would that be possible!?)
The Nova Scotian personalities weren't too distinct from each other. In general, they seemed straight-faced and conservative. My "Canadians are crazy" theory did, yet, get some support.
Take, for example, John Bunzy. He was a round, muscular red-head with a moustache in overalls. He worked part-time in Dr. Jim's orchard. At first, I thought his whole job for Dr. Jim was trapping porcupines. He hated tree-chewing porcupines. He looked like a locomotive engineer, and he spoke like a country folk. A bit older than us, he confidently educated on his love for women, partying, money, the country life, and John Bunzy. We called him "Sir Johnny Bunzy."
He, like absolutely everyone in Nova Scotia, said we had to travel to the remote Canadian province of Newfoundland. It has the nicest people there, and they only like to do three things: "Just fight, drink, and f*@k!" The girls only do the last two of them. Sir Johnny Bunzy likes his money, but he doesn't mind paying large taxes because he knows Canada will cover him for any health problems any time, and he says that makes his country better than the United States.
He spoke of his inability to understand people who live in American big cities or even in Montreal or Toronto. He said, "A lot of people say, 'Oh, the big T-O.' As far as I'm concerned, Toronto could get wiped off the earth, and Canada wouldn't even know the difference."
It was a pleasure shoveling manure with Sir Johnny Bunzy.
It sure beat trying to make that stupid whipper-snipper work. If you're some sort of hippy who's planning on hitchhiking across Canada some day, and you meet up with a partier like Sir Johnny Bunzy, and he asks you if you want to go whipper-snipping, and that sounds like it might be a cool time ...
Don't do it!
Just say no to whipper-snipping.
More from the farm to come ...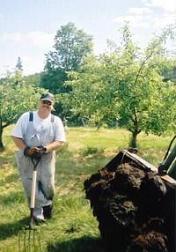 later. Modern Oddyseus.
with Johnny and Adam
NOTEABLE WILDLIFE SIGHTINGS, up to this point: chipmunk, skulpin
NOTEABLE WILDLIFE SIGHTINGS, while "farming Dr. Jim's apples": skunk, white-tailed deer, llama, sheep, bunny