No, no! I can't go out of South America like this.
Although I had tough luck with some of the girls in Venezuela, I can't go home sour. I can't leave saying the main thing I've learned was: "All girls are evil." There were too many good times.
Even in Venezuela, I still had a good time, with my "panas" (pals), David and Gerardo. One nice thing about Venezuelan friends is that they put their arms around you, go around boasting about what a great "pana" you've been to them, and call you "hermano" (my brother) with sincerity. David and Gerardo really cared for me.
And I love those guys. We'd had great times during our stays together on the island of Trinidad. And our Venezuelan reunion was cool.
And with our other Venezuelan "pana" from Trinidad, Fedora, I'd had a good time in Venezuela too. And she's a girl. You see. All girls can't be evil, loosen up.
Geez, what the heck am I talking about? This whole last TRIP has been full of great times. There have even been some great times I didn't tell you about. Little things, that didn't make the Modern Oddyseus final cuts. And I don't want to be a selfish, hoarding jerk, so ... I'll you about 'em now!
Here they go:
January 7, 2003 -
Although only few people technically had rooms there, the building I stayed in in Bariloche, Argentina became a live place at night.
At four a.m., our shared kitchen was packed. There were: large Laura (from across the hall), one runaway fourteen-year-old and two seventeen-year-old boys (living on Laura's small floor), Jairo (my best friend here/a people-loving nightclub door-man who lived below me), and four nocturnal teenage girls (they had Jairo's keys), and me.
Laura's runaway boys were humorous. They threw each other's clothes out the window, played music and danced while Laura tried to sleep, forced themselves in the bed with her, and walked around mostly naked. I taught one of the boys how Americans "booty-dance" sexually in nightclubs. He went around showing off to all the girls, and he had to repeatedly convince himself that people in the United States honestly danced like that. He thought it was hillarious.
Being that we were in Argentina, we sipped hot, herbal "mate." Until the sun out our window came up pink over snow-topped mountains across Barioche's big lake, we sipped in the night.
February 10 -
In Chile, I joined a group of "Santeguino" (from the capital, Santiago) backpackers in drinking white wine with peach and cantaloupe chunks in it, and we climbed a little mountain afterwards. We suddenly heard a herd of cranky, low-pitched "moo-ing" coming our way. A dozen brown cows materialized behind us from out of the dark. Two Santeguino boys began cracking up behind them. Apparently, it had been their wise idea to go scare up all the cows and chase them at us.
February 13 -
On the Carreterra Austral, Chile's southern highway, six of us were hitchhiking truck rides to get to and from a beach. I was with a girl and guy my age, the girl's mother and thirteen-year-old brother, and Antonia. Antonia was almost perfect-looking. She was three years old, she had black eyes and hair, white skin, and a rounded kid face sticking out of a hot pink sweatshirt. She didn't talk all that much; she loved the sea.
A priest and his truck dropped us at a wide, dirt patch beside the road. We began a game of tag here; we yelled "Pinta!" every time we tagged someone. A cold-purplish sea painted the opposite side of the road, and the sky was blue like there wasn't anything there. When one of us saw that a vehicle would be passing, he alerted the others, Antonia's father grabbed her, and we all stuck out our thumbs. Little Antonia reached to me and indicated she wanted the empty water bottle I was carrying, but I didn't know what for.
Antonia loved hitchhiking.
We returned to our "Pinta." We all played, running away as best we could on the dirt track, even the Chilean mother, under the clear sunny sky, and little Antonia chased us with her little arms, giggling, hoping to yell, "Pinta!" and tag us with the water bottle she held.
February 20 -
Playing spanish Scrabble for the first time, I succeeded to spell "choque" (meaning a car accident), which netted me 32 points, my finest foreign-language Scrabble move ever!
March 2 -
On a Patagonian Argentinian city on the sea, seventeen-year-old Vanesa and I watched a free Leon Gieco concert. Vanesa was my most fun girl of the trip, with powerful green-hazel eyes and dark Argentinian hair. Leon Gieco played native-sounding folkloric instruments and lyrics, but he mixed them with the electric guitar and drums and piano of rock. Just another example of Argentina's old, great music.
A large crowd was for the concert, and an old couple danced folkloricly to a jazzy song, and danced good. Most of the crowd just watched and admired them, except Vanesa, who surpised me and said with her smile, "Quieres bailar?" So, we danced. It was my first folkloric dance effort, and it came on a grassy, lit-up lawn before Puerto Madryn's calm, black sea in front of everyone. The dance was pretty cool, I kind of kicked my heels together as I held Vanesa and we bobbed around.
We two pairs of dancers even gained applause from the crowd. The old couple had earned us most of that. Vanesa told me after that, when such dances are done traditionally, the female is supposed to yell, "Yip-yip-yip-yip-yip-yip-yip-yip-yip-yip-yip-yip-yip!" high-pitched a lot. I think it would've been pretty embarrassing if Vanesa would've done that.
March 4 -
"Adonde vamos!?" (Where are we going!?) Julio didn't give me time to open my mouth at the gas station. He knew I was a hitchhiker, and he knew I was welcome in his truck going north. He was in his early-thirties. His eye-glasses had earned him the nickname, "Mr. Magoo", among his friends. And he loved people. And he loved talking.
March 21 -
I was on the last night of a week in which I spent six nights in buses in Brazil. There was this little eighteen-year-old on the bus, and let me tell you! she was something to look at.
She had the most beautiful milk-caramel skin, a left-eyebrow piercing, and brown eyes that wobbled around insecurely, beautifully, when she talked to you. She spoke to you like she was a delicate, small mushroom. She wore her pants low on her stomach and big, she called herself a "roquera" (a rocker), and she and her thin-waisted proportions should've been in a museum.
Marcia Justino's last name was my first name, so she asked if she could sit by me late on the bus. The Brazilian term, "ficar" (meaning "to make out with someone during one night"), was never so nice to me. (Or bumpy ... those buses.) When it comes to personality and love, Brazilian girls are the best.
May 16 -
In Caracas, my buddy David had some friends over to drink beers one night. A friend of his played some songs on guitar (including serene, 80's-type anthems by Argentina's Soda Stereo, which was awesome). He played one song I didn't know, it seemed to be about Venezuelan hope and inspiration. The guys and girls there joined voices on a long, kind of sad, feeling-rich hymn that got all our eyes serious and our hearts thinking.
May 26 -
On my last day in South America, my "pana" Gerardo wanted to make me lunch. In his orange-walled, tree-view apartment, he did a good job. His tomato salad was wet with sweet dressing, his meat came with the hot Indian pepper sauce he'd brought from Trinidad. And for appetizers, he'd made a Cuban recipe learned from his grandpa, called "tostones." These last things were fried plantains drenched in his mixture of garlic, lemon, oil, and salt. They were unbelievably tasty. It was a good send-off.
Wow.
Yeah, I did have some good times. And I learned a lot, actually, a lot about life.
I learned from the Argentinian guys, who laugh easily and are quick to hug and kiss the cheek of anyone they know or have been introduced to. I learned from the young, Argentinian backpackers, who leave home for weeks united in adventure.
From the older, working Chileans, who use their vacation time to take trips, get to know family and friends better, and have some good discussions.
From the Uruguay capital-dwellers, who seek culture and put their creative talents to good use.
From the Brazilian girls, who love to love, see only the positive side, and talk cheerfully in Portuguese singing you wish you could keep in a bottle.
From the Venezuelans, who, no matter what situation their country is in, never believe there is an excuse to not have fun with someone.
And, let me tell you, that band "Soda Stereo" has got to be heard.
I hope you've learned with me and had too good times. Thanks for coming.
Bye. South America.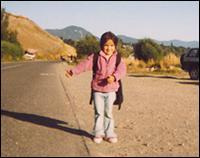 - Modern Oddyseus

/td>