Drugs. Lies. A lot of money. Looking for drugs. Staying awake for four days straight. Arguing about drugs. Sleeping afterwards for two days straight. Sweaty dance-clubs. Meaningless sex. Drag queens. Bisexual sex. Electronic music.
This is the scene of Argentina Capital's underground world. The setting: Buenos Aires, a large, tight-packed city where the buildings house people on the second-thru-seventh floors, and commerce on the street-level. It's a green city, where fluffy trees line the streets, plants hang out on the building balconies, and grass dominates the plazas.
The undergrounders, however, operate when the plants are sleeping. The girls get dressed up like colorful dolls, like punks, or in the newest fashions. The guys throw on whatever. They smoke some marijuana, warm up some "quetamina" (special k - a glass-like substance) on the stove then snort it, and go out.
An undergrounder named Mauricio had invited me to stay with him, after it took me a day and a half to hitchhike the 840 miles from Puerto Madryn to Buenos Aires (two truck-drivers helped me on my way). And there were obviously more reasons to stay with him than to not.
Look: REASON 1 - I like free places to stay. REASON 2 - I like electronic music, sometimes. And, REASON 1 NOT TO STAY - I really don't like every other part of the underground scene, I don't like big cities, and I was getting pretty sick of Argentina. See? 2 against 1.
Besides, Mauricio was a likeable chap. With light-gray skin and short, dark hair, he walked like Star Wars' Ja Ja Binks and let out high-pitched "Whoop!"'s at times. He'd picked me up while I was hitchhiking three months ago and take me to a party, and we'd kept in touch since. And, he'd told me over e-mail that he was really cutting down on his drug use.
For four days, I stayed with Mauricio. If he was cutting down on his drug use, he must've been cutting down from an awful lot. Three nights he went out with his friends; I soberly joined them twice.
I was in a large dance-club each night. In the first club, girls dressed up like fairies in feathery headdresses and guys in tight, bright green danced on stage. They performed disturbing motions. The club-goers around me sucked things up their noses, danced, or crashed out on the couches.
In the first club, as in the second, the electronic beats changed choppily, and it was tough to stay interested unless you were on a lot of something. Sometimes, good dj's can blend beats together so well that the flowing, electronic music never lets you stop smiling and dancing, and when this happens it's great.
But, that was not the musical situation I was in. Nor was I in a situation where I could talk to the girls. The Argentinian girls, often uncheery and unwelcoming anyways, were now in the city and on drugs, and any effort I made to talk to them was likely to be met with a hostile disconcern for me or my existence. A smart Modern Oddyseus would've sought out the always-welcoming Argentinian guys for a friendly conversation to pass my time, but sometimes I opt to be a stupid, complaining Modern Oddyseus.
But, even a smart Modern Oddyseus wouldn't have fit in well with the underground or other main Buenos Aires scenes: the business-men, the shoppers, the poverty scene, the criminals. Eww, cities. I prefer much more the chasing animals scene.
I was pretty happy this Sunday to take off from the Argentina scene, on a boat bound for Uruguay. That's right, Uruguay! famous for ... (cricket-chirping silence)
Looking back on Argentina - from the back of the boat, with a strong wind - I considered some of the more-important statistics of the Argentina/Chile trip:
Hitchhiking-wise, it was a ... success!
Kilometers on inter-city bus: 1900
Hitchhiked: 4500 km (2700 miles).
My efforts to sustain myself, were a ... painful flop.
Money earned: 50 pesos (US$14)
Money spent: $777
Hair-wise, it was a ... success!
Hair, upon entering: long
Leaving: longer
Woohoo!
Chasing-animals-wise, it was ... not too successful.
Llamas caught: 0
Emus: 0
Sheep: 0
Crabs in Chile: 4
Girls: 3 kissed
Life-wise, I have placed Argentina on the following list here, among the places I feel I've gotten to know well, of where I think it would be best to live.
1. SAMOA - 97
2. AUSTRALIA - 97
3. ICELAND - 79
4. COLOMBIA - 63
5. MICHIGAN - 56
6. FLORIDA - 32
7. BRAZIL - 29
8. ARGENTINA - 24
9. TRINIDAD - 12
Even though this is my list, I have no idea what those numbers beside the countries mean. I guess the number 50 would divide the places into good places to live and not-good places. Of course, this list was made by someone who believes the secret to real happiness comes from sincerely caring about other people (and feeling free), and competative cultures where things other than people define the life would be penalized.
I guess I came down on Argentina pretty hard there at times. Sorry, Argy.
But, let me just emphasize that the Argentinians do care about their friends an awful lot. For example, the large parents of Mauricio accepted me into their Buenos Aires apartment very warmly. We talked, we laughed, we ate meals together, and they want to send a package to me in Michigan with some mate herbs, a mate pot and "bombilla" straw, and perhaps some Argentinian "dulce de leche" (caramel bread spread).
The other thing I'll miss about the place are the young backpackers. Many of whom hitchhike and many of whom have long hair, so you know they're great just like me! Ha, ha.
Some memorable ones include Diego, a bearded blond who also went swimming with the seals, was very friendly, loved talking about interesting things, and studied in a bohemian university town. I also came across four guitar-playing friends who biked the length of Patagonia camping out, who recited, "Ama la arte!" (Love, and live for, your art!)
Any place is a good place to live if you make it good. Don't be a stupid, complaining Modern Oddyseus. Be an Argentinian backpacker.
Adios, Argentina.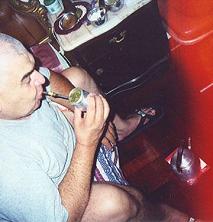 - Modern Oddyseus
Thanks to truck-driver Julio "Mr. Magoo"; and Christian; for the lifts! Much thanks to Juan-Jose, Aurora, and Mauricio for the place to crash!