The day before the wedding, David and I went to get our suits. The Venezuelan suits rarely came close to my wrists. I zombie´d around the shop like Frankenstein for kicks; I looked like a vagabond.
The day of the wedding, Luisa appointed my shaggy head to Sandra´s "peluqueria" (hair salon). Sandra washed, then "dried" my hair flat by pulling down on it hard with the brush. I told her I felt like a poodle being prepared for a dog show. I left with hair straightened to my chin; I looked like a guitarist in a 60´s rock band, or a member of the group, Hanson.
David picked me up in the post-wedding car of the "novios" (newlyweds). It was decorated with a white ribbon and flowers, and we looked like a couple. I put my arm around David´s shoulder; he hugged me. People looked at us. David waved his hand at them effiminently, and we laughed.
At David´s, all were preparing themselves. David´s young cousin, Juan-Jose, had cut his dark hair a bit and wetted it back; he wore a navy suit and purple and black. The mother of the groom, Anna-Merced, wore an extravagant orange dress beneath her kid´s smile, glasses, and orange hair. The nice, smily father, Jaime, wore a fancy white flower in his tuxedo.
The best man, David, came out looking like a "barón" (a strong man who drinks his milk), low and strong, in his elegant tux and white shirt. And David´s brother, Izac, descended the steps like the royal man of the hour he was, showing off a sharp, black flu coat that came down to his knees.
I´d found a fine, black suit to fit, and I wore a gray tie. Jaime said I looked like one of the Beatles when they met the president of the United States.
The family David called his "crazy cousins" arrived: two chubby guys who - from the stories David told - had probably taught their lungs to take oxygen from beer.
To the catholic church we went. I waited outside, joined soon by one of David´s best, longest friends, Marco. A typical, beer-enlargened, cow-bodied Venezuelan barón, he constantly wore a cheesy, mischievously amused smile. He, too, drank ´til the last man was standing. He´d brought Luisa with him, who´d passed time in the peluqueria. Her hair was up - with a long strand free - and, beneath dark eyebrows, her eye-lids were painted blue to match her shiny dress displaying milky skin.
People arrived. Women and girls in white, purple, and black dresses. Guys in dark suits. A short girl with dark hair straighter than light from a star passed us. Her face was "hermosa" (perfect like a fawn). Her dress was orange-brown like a caramel autumn day.
The bride, Maria-Alejandra, arrived. She was beautiful. White-skinned, she had on a glossy, off-white dress. Her hair was up, supporting a hanging veil and leaving exposed sympathetic eyes and a sincere smile. Holding yellow roses, she walked in to meet Izac at the altar, starting the ceremony.
David played a song on his cuatro, singing about love. Next, Anna-Merced played guitar and read about asking help from God. The priest took over with more christian talk than talk of Izac and Maria-Alejandra. He said Izac and Alejandra were indeed incapable of raising kids after having gone out young to bars, but with God´s help they would become capable. (Being non-religious and a strong believer in myself, I always think the "total dependence on an unseen God" thing to be self-depricating.)
Izac and Maria-Alejandra said their vows, which is always the most romantic part. They kissed and left "maredo y mujer" (man and wife). Woohoo, yeah! We told the "novios" "Felizicationes!" afterwards. Izac told me in english it meant a lot to him that I was there, which was nice to hear, since I was the only person there who´d met him in the last five days.
The Venezuelan reception followed. Chandeliers, white table cloths, a bottle of Johnny Walker at each table; it was nice. As many as a hundred and sixty enjoyed themselves. We all drank champagne to the new couple. A team of waiters scurried to replace all that disappeared into the guests.
Once the champagne ran out, Marco and I started pouring our table drinks of Johnny Walker. Marco´s eyes gleamed like a monster´s; this was the moment he´d been waiting for.
A band got things started. Izac and Alejandra danced first. Then, the parents of the couple, then David and the maid of honor.
Waiters carried platters of food to a central table for everyone to try. There were many cheeses, bread, pepperoni slices, crackers. Waiters brought straight to us strips of rare, red, delicious meat and fried cheese-balls. Mmm, good food.
Holding our glasses of scotch and soda, Marco pointed out to me a short, professional-looking guy in glasses who seemed to be everywhere, because there were two of him. Morachos! Twins! They were kind of dorky, but one of them seemed to at all times be talking to every girl in the place. Marco explained that earlier he´d been talking to a "morena," but the morachos interfered. The morachos always interfered, he said.
David got up to dance with Luisa, who I´d mysteriously never seen dance up to this point. Normally, you see a Venezuelan girl dancing within the first few days upon meeting her, if not the first. And, she danced good, twisting in her blue dress like a charmed snake to the salsa. David and I had thought our turtle-dancing in his car to be good, but she was on another level.
Young, younger, and old danced. Juan-Jose was a hit with the ladies.
The crazy cousins had a younger sister. I figured, coming from a crazy family, she couldn´t be too picky. She accepted my salsa invitation. She had light skin, a caring, freckled face, black hair, and a pink dress. She was younger.
I pretty much tripped up my steps. I went to do what I did better: eat and drink more.
Adriana, a white-skinned friend of Izac´s, arrived at my table. She´d studied english in Toronto; we talked. But, thanks to the Venezuelan fun I was having and the lesson Johnny Walker had given me, my spanish was almost perfect. Like a true Venezuelan barón. Ingles? Que ingles? We danced. I was drunk; she not. I only danced ok. She didn´t dance close to me. And then, I turned around ... and she was wrapped into talking with one of the twins! Marco shook his head at me, and we cursed: "Rata! Los morachos!" We poured ourselves more drinks.
A Spanish mariachi band intervened. A popular Venezuelan wedding tradition. A low-toned singer serenaded Maria-Alejandra and Izac. Whiskey in hand and the band´s Spanish sombrero on his head, Izac was very happy; Alejandra too.
Soon, the normal band played, and a great Venezuelan wedding reception invention, "La Hora Loca" (Crazy Hour), erupted. Crazy music played. On the dance floor, people handed out noise-makers, crazy hats, crazy glasses, masks, bunny ears, toy pistols. From black-and-white the place became red, orange, green, blue, and purple. Silly string shot through the air. People danced in congo lines. Some limbo´d. For twenty minutes, everything was chaos. We baróns took the opportunity to get more scotch.
When it ended, the howling drums of tambor!!! played for the second time. We shook our bodies to the unpredictable percussion. I began dancing in a circle that included David and Izac.
... but, I ended up dancing with the short, straight-haired, autumn-dressed, "hermosa" girl. She danced really well, turning in circles and twisting and having fun to the music. Salsa and merengue followed, and this passed very good. We danced close, moving together well.
Blurry events led to us being in the outside hall together talking. I remember her asking if I had a girlfriend; she was fifteen. Whoa, trouble. I probably told her she was beautiful, I hope. Then, we said good-bye. Probably I left drunkly without much grace, saying something like, "You´re fifteen ... I gotta go!"
Ugh, I felt bad. Maybe I wasn´t a barón. I took a long bathroom trip. There´s a fine line between puking and not puking. I tip-toed the border of the good side.
Back in the reception, only the hardcore partiers remained. Even they were fading. Marco spilled whiskey on me and spent ten minutes apologizing. "Desculpe! Desculpe!" (Sorry! Sorry!)
"No voy lavar los pantalones. No me importa." (I´m not gonna wash the pants. I don´t care.)
He continued. "Me perdón! No fue mi culpe!" (Forgive me! It wasn´t my fault!)
"No se preocupa. No son mios!" (Don´t worry about it. The pants aren´t mine!)
"Desculpe, Justin. Perdón!"
I struggled to stay awake as the crazy cousins blathered to me about the horses they´d imported from Kansas. The crazy cousins´ young sister said I had the face of the dead.
Some brothy, delicious, chicken-and-potato soup came and gave me life to get to David´s house. After six a.m.
Marco and the crazy cousins continued drinking until almost noon, dragging David with them and challenging his manhood when he wanted to sleep.
The next day, I puked.
The crazy cousins missed their hotel check-out time by seven hours and snuck out the back door so not to pay another night.
And Izac and Maria-Alejandra continued their already-exciting, new life together.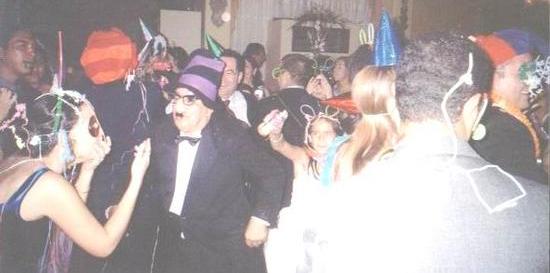 Congratulations, guys! Modern Oddyseus.