The positive side of having to be in the same state as (rrrgh!) Pansyckas, was that I could also see and stay with my old college roommate, Ewan "Johnny" Smith.
He was renting a place now on St. Pete Beach. The family of my 6'7" roommate came to visit him on Sunday. This meant that Leigh, one of his fifteen-year-old twin sisters, would be in town. This meant the war of words that Leigh and I had been clashed in for years would finally be had out on the playing field: two big sundae bowls. "Competition of the Week" 12, the final competition, would be a sundae-making contest.
Years had passed since I'd last seen Leigh, when she was only eleven and lacking vital sundae-making experience for such a prestigious competition. But, those years had been full of bitter, unforgotten taunts. My roommate, Johnny, would say to me, "My sister says she could make a sundae that would make yours look like dog food." Or, "Leigh says you couldn't make a sundae worth spitting on even if your hands were made out of ice cream." (Okay, I'll admit: those unforgotten taunts were forgotten. But, Johnny had said something like this.)
We later found out Johnny had been lying through his teeth, and all the taunts he'd attributed to Leigh, or to me when taunting Leigh, were really just the inventions of instigating Johnny. But, those forgotten unforgotten taunts still stood to bitter our feud. Johnny's other twin sister, Loren - brown-haired, smart, and freckled - walked in. She was followed by Leigh. She had darker hair, looked kind of like a lamb, and had no freckles. And, for that dog food comment, she was going down!
"Sundae Sunday Sun Day!!!" yelled Johnny's new roommate, Ryan "Johnny" Singletone, with a Rhode Island smile and excitement to just make everybody happy.
A subplot to this day was that it was Sunday. "Johnny" Singletone was excited, because he was watching football. I was excited, because Johnny Singletone proudly owned a football-shaped glass which he boldly claimed held two cans of beer exactly to the brim. I'd waited all week for Sunday to see this phenomenal wondrous phenomenon.
The football was about to begin. Johnny Singletone poured in one beer. He started with the second. Slowly, slowly ... It didn't look like it was going to all make it into the glass. But, at the last second, it just did! It was one of the most amazing things, cup-wise, I'd ever seen. MODERN ODDYSEUS' GUIDE TO ALWAYS WINNING # 12 - Find inspiration in modest successes.
"Competition of the Week" 12 headed, inspired, to the supermarket. For supplies, Leigh and I were limited to only four ingredients. We did our shopping, then headed to our hosts' kitchen to prepare our sundaes and leave a mess for the "Johnny's" to clean up.
Never before had two such great sundae minds architected together under one roof. I had subscribed to my superior all-ice cream-diet for three glorious years, collecting invaluable sundae topping familiarity. Leigh, for her part, was always experimenting with goggles and bunson burners in the Smith family kitchen. One of her past sundaes had included an upside-down tootsie pop sticking out of it, and she always made her taste-testing guinea pig - her brother, Johnny - eat it all.
We great minds constructed our latest works. I dumped a half-gallon of Neapolitan ice cream in a very large bowl. I broke up some Oreo cookies and Snickers bars on top. I waited for the hot fudge to heat, and put the thick top on my preferred four-topping sundae.
Leigh was no slouch. She'd searched for rich, fudge-packed Moose Tracks ice cream in the supermarket to no avail. In a veteran move, she'd gone with Snickers ice cream, saving an ingredient. She laboriously scooped the ice cream to create a half-gallon-sized sundae with alpine moguls. Would this extra effort pay off? She agreed with me on Oreos and hot fudge. What distinguished her sundae from mine was the Marshmallow Fluff - a heavy, sugary white sandwich material - she clouded the top with.
With spoons and finished desserts, we came to the three hungry judges, awaiting in front of the football game. They contemplatively deliberated the finer points of our sundaes for some moments, silent except for a few "Mmm!"'s and "Yum!"'s. Johnny Singletone would do the judging in terms of "presentation;" Loren would judge for "creativity;" and, the other Johnny for "taste." I was a little un-satisfied with the fact that two of the three judges were my opponent's siblings.
Two of three judges' votes would decide the winner.
The "presentation" judge, Johnny Singletone, spoke first. "I can't say I'm a big fan of the whole 'block of ice cream' thing." Rats! I liked my 'block of ice cream.' It's hip to be square. Johnny Singletone voted for the hilly, mogully sundae ornamented with the orange-stuffed Oreos and the white Fluff. One vote for Leigh.
The "creativity" judge, Loren, also was impressed by the Fluff. Oh gee, big suprise, vote for the person you've been with since birth!
I got some consolation when my good ol' ex-roommate, Johnny, picked mine for "taste," saying he preferred the big Snickers chunks mine had. One vote for me! One vote too few ...
And so, on this great "Sundae Sunday Sun Day," things were finally decided. The winner of the final competition, "Competition of the Week" 12, and the maker of the best sundaes, at the still-blossoming age of fifteen ... was the one, the only ... Loren! Or, Leigh, I should say. Whatever. Same thing.
This loss tasted sour. Even seeing the magical football-shaped glass filled up perfectly with two beers as we watched football excitedly on Sunday, couldn't cheer me up. Stupid Johnny Singletone, and his "I don't like the whole 'block of ice cream" thing.
The only thing that could cheer me up was devouring the sweetness of the best-"taste"-voted sundae along with the three judges. "Johnny" Smith ate from this especially quick.
"Do you know what I taste in this sundae?" I asked him. I planned to nag him about its "absence of chunks," due to the fact he always stole for himself all the chunks when he ate my sundaes. But, Johnny had a different answer for me:
"Defeat?"
And so, that's how the gritty "Competition of the Week" program ended. In defeat. And, as I headed from Florida back again to Brazil to try to win back my ex-girlfriend, I went with a losing record.
In final, what have we learned from this program? That competition is healthy, and that anyone who beat me obviously cheated. It gets your juices flowing, it keeps you alive, and it gives you something to hold over your friends.
You know what? The more thought I put into this whole "Competition of the Week' conspiracy/rob Modern Oddyseus of his wins" theory, the more light it shines as to how on earth I ever lost. Pansyckas probably sat on the less-nauseating side of the roller coasters during "Competition of the Week" 7; "Pancho" was probably fed those words by Melanie during "Competition of the Week" 11; and my brother, Brandon, probably used a poem-writing machine to win "Competition of the Week" 9.
I am totally anti-cheating. Thus, as the chief-in-command of the "Competition of the Week" program, I am going to strip all the past winners who weren't me of their awarded victories, and give them to myself.
There. That feels right.
Later, guys. Thanks for playing!
Modern Oddyseus (12-0). Undefeated!
Add'l stats. Oreos used:
me - 8
Leigh - 9

No.
Wait a minute. That's not very sportsman-like. I can't do that. All my fellow "Comp of the Week-ers" worked too hard, and they all deserve a hand. All of them except for Pansyckas, rrrgh ...
So, let me just say to "Competition of the Week" 3 and 5 winner, Chris; 6 winner, Stacy; 9, Brandon; 11, Pancho; 7, Pansyckas; and 12, Leigh; "Victories well-earned, guys!" But, all the people who competed in these contests should keep in mind that the most important lesson we learned was: "It's not whether you win or lose; it's how you play the game." Isn't it, now? And I played especially well.
And to those people who participated in the other five competitions, won by me, you should most importantly keep in mind that - ha ha! - you suck.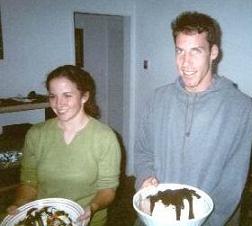 Modern Oddyseus (5-7).
Good game.